Unfortunately, bullying is a common occurrence in our society. Kids, teens, and even adults face bullying every day. It can be physical, verbal, or emotional abuse. The results can be relatively minor or, in bad cases – devastating. Victims of bullying often feel alone and helpless.
They may not know what to do or where to turn for help. That's why it's so important to look at what the Bible says about bullying. We can't recall a bible translation that necessarily has the word "bully." So, how can there be Bible verses about bullying?
Many times the word of God gives us general principles about how to handle various aspects of life. So, there are quite a few scriptures that can be comforting and uplifting for a child or family that needs to be encouraged on this topic.
Our Goal In Terms Of Bullying
Having been involved in leadership in the educational field for many years, We understand that bullying isn't something that is solved with a simple blog post. So, this is not a definitive guide with the exact steps on how to handle bullying as a whole.
Our goal here is to provide you with spiritual encouragement, Bible verses about bullying – or that can apply to bullying, and prayer examples. Also, we will provide you with links to additional resources that can help you take specific action about bullying.
What to Know About Someone Who Is Bullying You
If you are a child, a teenager, and sometimes even an adult who is being bullied at school, on a public playground, at work, or anywhere – this is a message for you.
You need to realize that you're not to blame. You may know that already, but just make sure you do. Bullies will want you to think it's your fault because they will try to make you think you are weak or no good. That is not true about you! You are priceless in God's eyes!
You Are Not The Problem – Bullying Is The Problem
You have to recognize that unless you are doing the bullying, you aren't the problem.
Here is what you need to know about someone who is bullying others. That person may feel fairly secure about themselves, but most likely insecure. They probably have low self-esteem themself also. The bully may be a control freak and may have no self-control.
It's hard to think of the bully as someone who may not be an evil person. However, their life may be a real mess and they don't even understand why they are doing what they are doing.
And actually, the bully may have been bullied themselves or are still being bullied by someone that you don't even know about. The bully may simply be angry with his own life or someone else and they find it easy to take it out on you. There are many reasons why a bully does what he/she does. The bully has probably done this to quite a few other students (or others in general).
What to Recognize About Yourself If You Are Being Bullied
The first thing to know is that you are not alone. God sees what is happening to you and please know that God loves you!
Psalm 34:18 says, "The Lord is close to the brokenhearted and saves those who are crushed in spirit." He knows your pain and He wants to help you.
The bully may speak lies about you that may be embarrassing or hurtful. Just don't believe them.
If you are being bullied, we know that you simply don't want that pain anymore. Try to remember the times in your life when the Lord helped you and trust Him to do it again.
What Does God Have To Say To Those Who Are Being Bullied?
We are going to go through some encouraging Bible verses that can be helpful to those who are being bullied.
Does it seem like a useless task to look at Bible verses or talk to God when you just want to fix the problem? It's really not.
Please don't misunderstand the purpose of this post.
If the bullying continues you need to tell those who are in charge and do everything necessary to be safe or keep your child safe. Children will have conflicts with others occasionally that are fairly normal, but we are talking about a consistent issue or issues of being bullied.
So, take the actions that you need to take to make sure that the bullying stops. We will provide some resources just a bit later.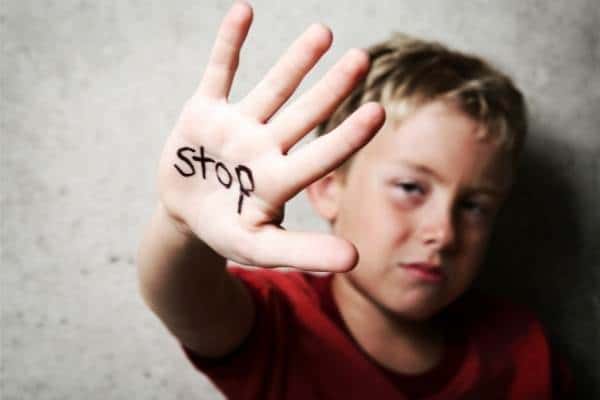 Call on God and Listen to God
However, it's very important that we hear from and call on God and handle the situation with a pure heart. As much as we want to "repay evil with evil" we need to handle the situation with the love of Jesus Christ working through us.
That does not mean that we are to be a withering flower. That does not mean that we do not take action when we are pushed hard – verbally or physically. It just means that we shouldn't let anger take over and make bad decisions, but exercise the self-control that God will give us.
In Romans 12, the apostle, Paul tells us that we should "live peaceably with all men." However, he qualifies that instruction – "if it is possible, as far as it depends on you." God only expects us to do our part. Do you know that one day you could possibly be close friends with someone who bullies you now? With God, things like that are very possible. He tells us to seek peace with others. However, you can only do your part. Ask God to do the rest.
Many times we will want to seek revenge while God says to "overcome evil with good." Romans 12:21
"If it is possible, as far as it depends on you, live at peace with everyone."

Romans 12:18
Sometimes you will be mocked or insulted or made fun of because you do follow Christ and won't participate in things that others do that aren't pleasing to God. He blesses you for that.
"God blesses you when people mock you and persecute you and lie about you and say all sorts of evil things against you because you are my followers." 

Matthew 5:11
Joshua was about to lead the children of Israel across the Jordan River and into the land that God had promised. It was an enormous responsibility. It was a situation where courage from God was needed for Joshua. So, Moses told him:
"So be strong and courageous! Do not be afraid and do not panic before them. For the Lord your God will personally go ahead of you. He will neither fail you nor abandon you."

Deuteronomy 31:16
There may be some times when you think that the Lord has abandoned you. but He has not.
As a child of God, you know that your ultimate confidence must come from God. He is your helper and the one who ultimately takes care of you. Knowing that He is in control no matter what is a reason.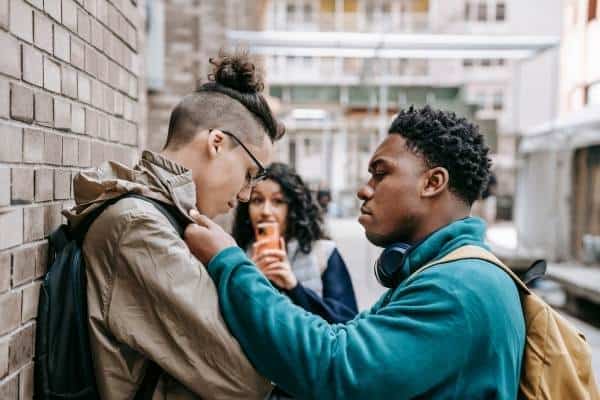 How Can I Have No Fear?
That's a question that I have struggled with all of my life.
There are quite a few passages in the Bible that say something about having "no fear." Have you ever known any person in the world who had no fear at all? Probably not. The verse below says "I will have no fear."
That doesn't mean that if you know a bully is around the corner you have failed if your heart is racing or you have anxiety at that moment. But God doesn't want us to live in a state of fear all of the time. If you choose to say or do what God asks you even when your emotions are making you feel afraid, then you are not bowing to fear.
"So we can say with confidence, "The Lord is my helper, so I will have no fear. What can mere people do to me?"

Hebrews 13:56
Even in the darkest, scariest times of our life, we can trust that God is there with us. We can't depend on how we feel in order to know that. Your emotions may tell you that you're totally on your own, that God is not there. However, don't believe your emotions. We can't count on them to be true. Choose to believe what God says.
"Even when I walk through the darkest valley, I will not be afraid, for you are close beside me. Your rod and your staff protect and comfort me."

Psalm 23:17
Don't Let Discouragement Be The Winner
When you are dealing with a situation that involves bullying, whether it is you being bullied or your child being bullied, don't let yourself be defeated by discouragement. This will pass. Trust in God to take care of the situation. Take the actions that you need to take, but trust in God for the results.
"Don't be afraid, for I am with you. Don't be discouraged, for I am your God. I will strengthen you and help you. I will hold you up with my victorious right hand."

Isaiah 41:10
Even when fear is approaching, you can praise the Lord anyway because He promises that He hears our prayers when we ask for mercy.
Praise the Lord! For he has heard my cry for mercy."

Psalm 28:6
"The Lord is my strength and my song; he has given me victory."

Psalm 118:14
Prayers To Our Father About Bullying
Here are a couple of example prayers that you might want to pray – one if you are being bullied by someone and the other if your child or someone close to you is being bullied.
Prayer to God If You Are Being Bullied
"Dear God, I thank you that you love me. I know that even when I start to feel afraid or all alone, I choose to believe that You are there because Your word says so.
Lord, you know that I need help. You know that I need my fears calmed and I need to know what to do about the person(s) causing me trouble in my life. I ask that you give me the wisdom that I need.
Please give me the courage to talk to my teachers or other leaders in charge if necessary. Also, help me share this with my parents and let them react wisely. I know that it's normal to get angry in situations like this, but I ask that we handle this situation with your love and mercy.
Please protect me. I trust that you will work this out. Please guide me to make the right decisions every day. In Jesus' name, Amen.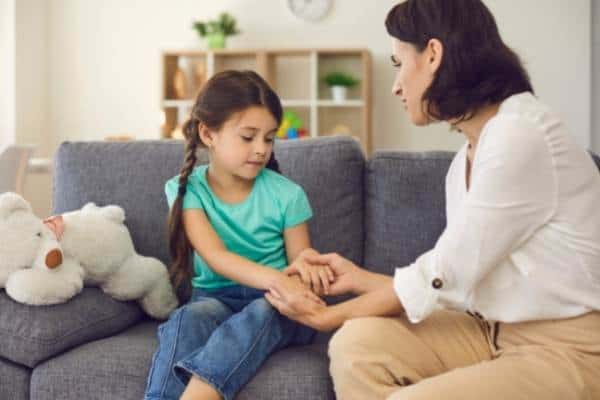 Prayer to God If You Have A Child Who Is Being Bullied
"Dear God, I trust you as my child's ultimate protector and Heavenly Father. But Lord, I know that I have a responsibility and the desire to protect my child.
I ask that you give my son/daughter peace and don't let them live in fear of being bullied.
I ask for your wisdom when I am speaking to my child about this issue. I pray that I will not make decisions out of anger, but make decisions that are the best for my child and pleasing to you.
Lord, help me to know if, when, and to whom I should talk in terms of taking care of this issue. If it's something that is not very bad that a child can normally handle, I ask that I allow that to happen and pray that you will give my child the wisdom and the courage to do so.
However, Lord if it's something more serious where I need to take action, I pray that you will give me the right words to say and to do the wise actions to protect and take care of my child.
I pray for teachers or anyone else in authority in this situation and may they step in and intervene if this situation continues.
Thank you for loving my child and me and our family. I trust you to guide us through this situation.
I pray this in Jesus' name, Amen."
It's our prayer for you that you will be comforted during this time. If you have never trusted in Jesus and given your life to Him, we hope you will take a look at the Prayer of Salvation.
Here are some resources that we would like you to check out –
https://www.cfchildren.org/resources/bullying-prevention-resources/
https://teach.com/online-ed/counseling-degrees/online-masters-school-counseling/bullying-resources/
We hope this was spiritually encouraging for you and that a spiritual platform will be the basis from which you make the important decisions when it comes to any situations of bullying. Please remember that God loves you and He will never leave you alone.