Those who may be looking for example prayers for surgery have hopefully come to the right place. Below you will find quite a few examples of various prayers for friends, various loved ones, and yourself. When you, a friend, or relative is about to go through a surgical procedure we find that is a time when many people especially turn to God in prayer to ask for His blessings.
We will give many types and examples of prayers for surgery. These are meant to spur your own thoughts and prayers, or you may agree with some of these specific prayers and use them as your own. If so, we encourage you to focus on the words with great meaning and intent and not just rotely recite them. Power from God comes from God and He's a God who first wants a relationship with you. We first invite you to make sure you have the proper relationship with Him that can bring life change, which includes powerful praying.
We sometimes use what we call a pocket prayer. That's just our term for a short prayer that you can keep on your mind through the day when you are away from your prayer journal, your Bible, or any prayer helps you may use. Here is a short version of a prayer for someone having surgery:
God, I thank you for the life of (person…). I ask that your Holy Spirit be present and active in this surgery. I pray that You will give (person…) calm and peace prior to the procedure. I ask that you give the surgeon and all assisting the needed focus and wisdom to do the procedure correctly and efficiently and that it will be a success. I also ask for (person) to recover as quickly as possible. Amen.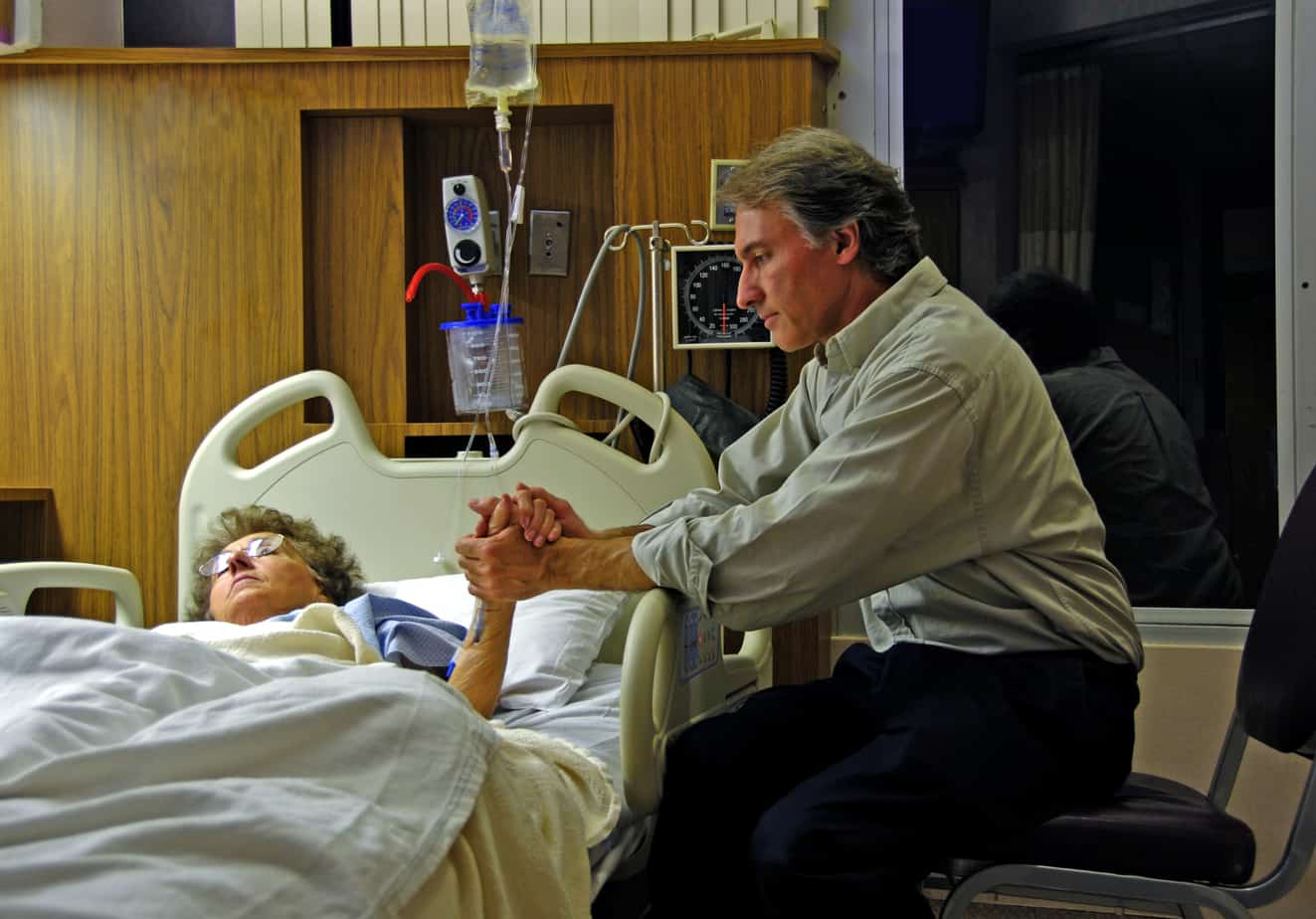 As someone who has been in the room as a pastor prior to the surgery of quite a few people, sometimes it can be hard to know exactly the right words to say in prayer for someone in these situations. However, we know that God is much more concerned about the attitude of your heart and what your heart is crying out to Him more so than the exact words you say. So, use any of the prayers below as example prayers that might spur your thoughts onto other things in the prayer, or turn one of the prayers below into your very own. Just mean it from your heart – not just reading from a page.
Remember, it's easy to say, "I will pray for your surgery." However, remember to begin praying for them before the day of surgery if it is something that is scheduled in advance.
You may have surgery of your own coming up soon. We will start there if you are in need of that, then we will look at several more examples of prayers for surgery below.
Prayers For Your Own Surgery
Prayer For My Comfort and Peace
Lord, I know that it's not uncommon for people to be anxious before any type of surgery. I pray that you help me keep anxiety to a minimum and that you will give me an inner peace – the kind that only comes from you. I acknowledge that you are the God of all comfort and I ask you to comfort my mind and emotions during this time.
Prayer For The Success of My Surgery
God, I pray that you will arrange all circumstances needed in order for my surgery to be successful and it will provide me the proper treatment that my body needs. I ask that you let my body respond well to the procedure and may I heal as quickly as possible and recover well. I will trust in You to watch over me through this procedure. Thank you, God.
Prayer for My Doctors and Nurses
God, I pray for the surgeon(s) who will be doing my surgery. I pray for each nurse, for each assistant, and anyone involved. I ask that they have a clear mind that is sharp and focused on the task. Please give them your wisdom and guidance and I pray that the Holy Spirit will actually be present in the room guiding each and every one. Thank you for being a Good God.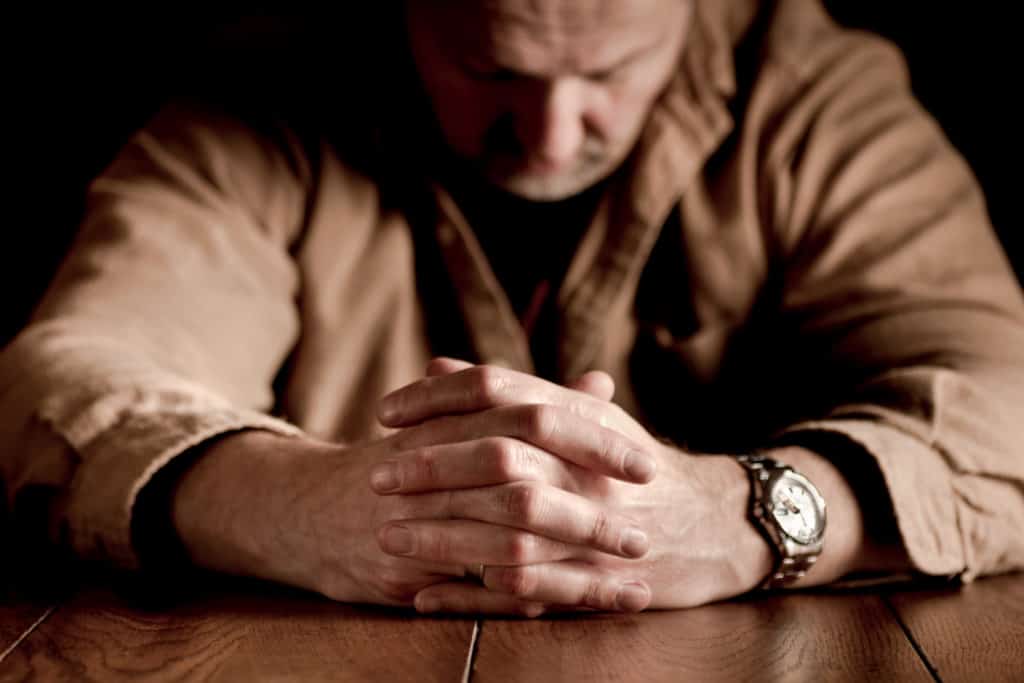 Prayers For Surgery of A Friend Or Extended Family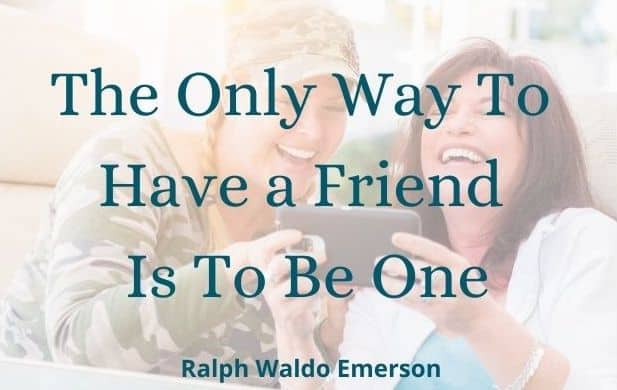 For the sake of my family and friends, I will say, "Peace be within you." Psalm 122:8
Here are a couple of examples of prayers for the surgery of a friend or aquaintance.
Dear Lord, I want to lift up special prayers for surgery concerning my friend, (name). Please guide their thoughts and their emotional well-being prior to the time of the surgery and keep them as peaceful as possible. I ask that this surgery would help solve their physical problem and enable them to have a better quality of life. Guide the minds and the hands of everyone involved in the surgery. I ask that my friend would look to you for strength and encouragement. May they remember that you are the source of all that is good and that You are still the Great Physician. May this surgery be a great success and that the time of recovery would go very well for my friend. In Jesus' name, Amen.
Lord, I can't imagine what my friend, (name), is experiencing right now. I know that they must be having anxiety about the surgery and I ask that You would work to calm them. I ask that you would not only work for my friend to have a successful surgery, but also that You would allow them to be ministered to spiritually through these circumstances. I ask for a successful surgery and recovery and that (name) will come out of this time trusting you even more for each and every day ahead.
Prayers for Surgery When the Patient Is a Child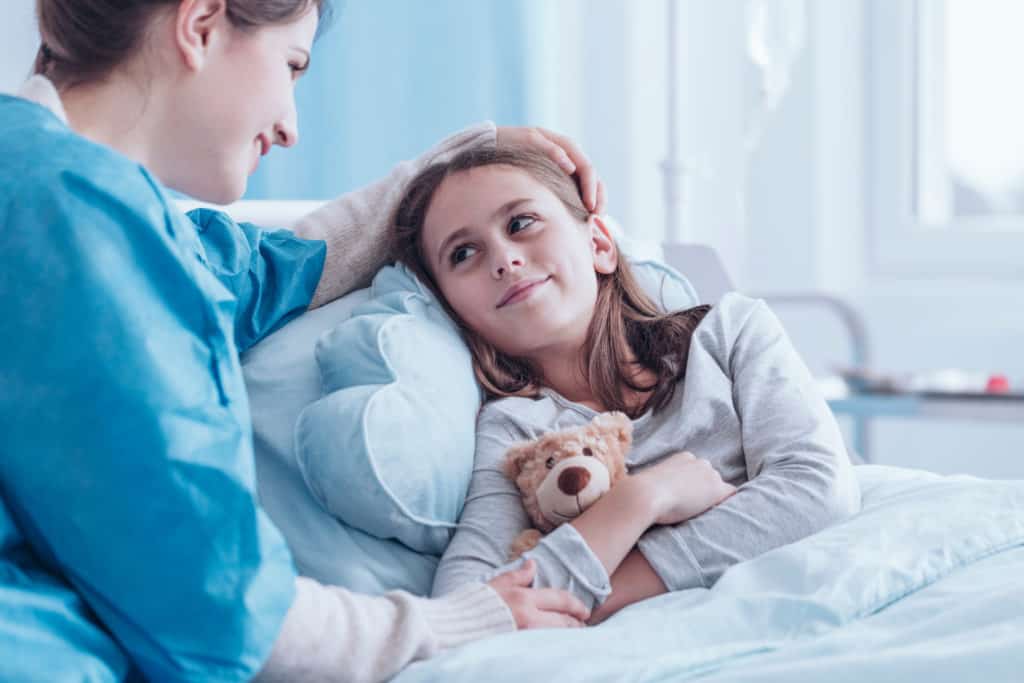 Everyone is important, but for those of us who have prayed prayers for surgery for and with many people. However, there is something so very special in our hearts toward a child who is facing surgery. So, we're going to word this prayer into three different parts – praying for the child physically, mentally, and spiritually through and around their time of surgery.
Lord, I want to ask for the very best healthcare possible for this child. I pray that (child's name)'s body will respond well to the surgery and that the results would be extremely positive. Not only do I ask that the surgery be successful for this child but, also, that there be as little pain involved as possible with this type of procedure. I ask for a return to the best health possible for (name) and that this child will have many, many years of life, love, joy, and productivity in the world. Please let (name)'s body recover well and as soon as possible. Thank you, Lord.
Heavenly Father, I know that you understand the emotions of this child and every other child in the world. You understand that their may be fear and/or confusion about the situation regarding this surgery. I humbly ask that you work in (child's name)'s mind to give thoughts of comfort and hope. I ask that you turn any thoughts away from anxiety or fear and set (child's name)'s mind on the love of family, friends, and that Your love would surround this entire event. With the faith of a child talked about in scripture, I ask that (child's name) will know that Your love for this child is great, even if they don't understand that as they will be able to in the future. Please don't let the thoughts of this child be those of constant fear and dread. Let them be thoughts of hope and love.
Dear Lord, You obviously know better than anyone how much a child can be influenced, molded, taught, and learn about love during the early stages of life. I ask that (child's name) experience your love during the entirety of this surgery experience – before, during, and after. At (child's name)'s very core, at the very heart and spirit, please touch (child's name) in a way that impacts this child in a tremendously positive way even if he/she can't articulate it. Please let this child grow up as healthy as possible and have a relationship with you throughout their entire life. Please show (child's name) Your love as only You can and let (child's name) embrace Your love and the love of those around him/her. Thank you so much for this child. You are a great God. Amen.
Prayers For Surgery of a Parent
Honor your father and your mother, so that you may live long in the land the Lord your God is giving you. Exodus 20:12
Your parents might be very old or relatively young. It's important that you pray for them, especially in a time when they may be afraid. It's probably a majority of parents who try to love you, take care of you, provide for you, and form a special bond with you. Even though no parent is perfect, there certainly are many situations in which it seems the parent didn't or seemingly couldn't provide you with the love and care that you needed. Below are prayers for surgery for each of those situations. Pray for your parents and love them as much as you can, and try to forgive if you feel like they have failed you.
If your parent loved you well…
"Heavenly Father, I give thanks to You for my mom/dad that you have given me. He/she has given many years in raising me, loving me, and teaching me. Mom/Dad has been there for me and I know how much they love me. So, I so appreciate the fact that you let me be born with a mom/dad who worked hard to love well. But right now I ask that your spirit comfort him/her as he/she faces this surgery. Even though they may or may not try to hide the fearfulness about this procedure, I'm sure it must be there. Please give them peace. I know that You have the power to guide the hands of the surgeon to perform a surgery that is successful beyond what we can even imagine. Please calm their anxiety, my anxiety, and we rely on Your faithfulness to work. Thank You for being my Heavenly Father."
If your parent struggled to love you in the proper way…
"Father, I thank you for this parent that will undergo this surgery. Maybe we have had some tough times together. Maybe I feel like he/she could have loved me better or treated me better. I also realize that his/her actions weren't necessarily what was in the deepest part of their heart. I just want to forgive them and ask you to bless them in this time of surgery. Please allow this procedure to go well and for everyone who participates to work to the greatest of their ability to get mom/dad through this surgery in a successful manner. I also ask that you give me the love that I need to express to them and treat them according to Your love even if sometimes my emotions don't seem to let me feel the love that I should. I would ask that this would be an event that would not only bring physical healing but spiritual and emotional healing for dad/mom as well as me. Thank you, God."
Prayers For Surgery of a Sibling

Dear Lord, thank you for this brother/sister of mine. Brothers and sisters may have ups and downs, ins and outs in their relationships, but when we face hard times we want and need to stick closely together. I simply ask that you encourage (sibling's name) during this entire process before and after the surgery. You know that I want it to be a successful surgery but I also know that I need to give you praise for all that you do through the process. Brothers and sisters hold unique places in the hearts of people so I ask you to hear my prayer, let your Holy Spirit work in this situation, and bring the outcome to be exactly what you desire.
Prayers For The Surgery of a Grandparent
There is something special that can happen between a grandparent and grandchildren. In some cases, due to various circumstances, the grandparent can have a strong or stronger place in your heart as your parents. Love and treat your grandparents with love and respect as long as they are alive.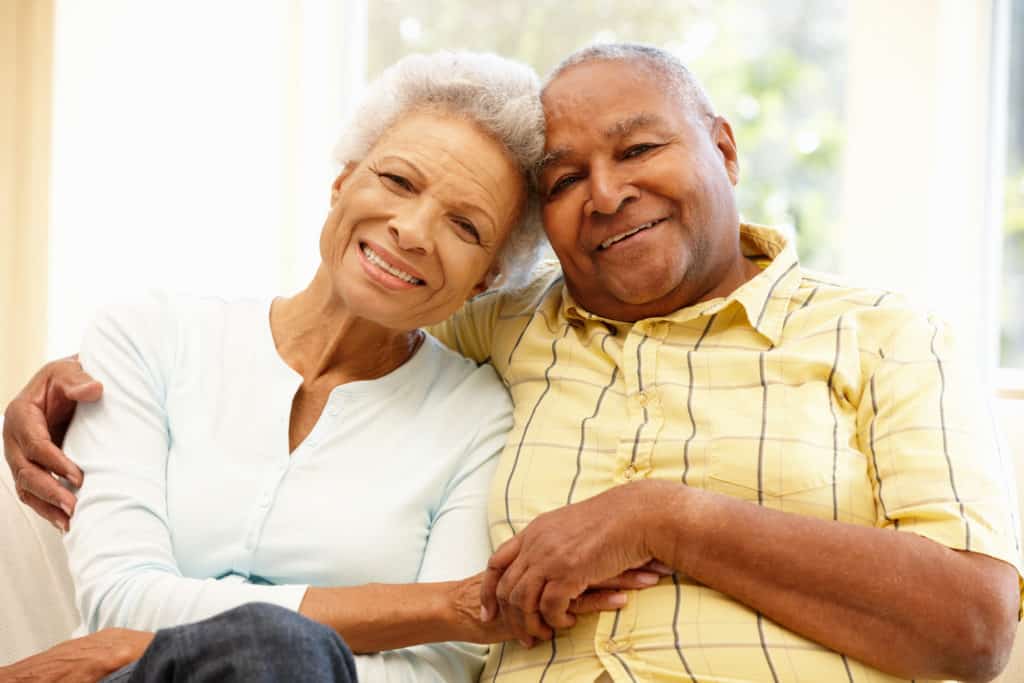 Dear Lord, I ask for Your blessings on my grandfather/grandmother. They come from an entirely different time and culture than I do. They were once young without the limitations that their body might want to put on them now. Please give my grandfather/grandmother an inner peace that is so strong they will know it's from you. I ask that you prepare all the doctors, nurses, technicians to do their very best and that you will be in control of the entire procedure. I ask for a great outcome for this surgery, but that You will have Your will in every aspect of the future with my grandparent's health. Thank you and praise you, Lord.
Prayers for Surgery for Those Who Don't Know
Sometimes we hear a friend or relative tell us about someone who needs prayers for surgery that might be approaching. Even though we might not know them, we can still pray well. Here are a couple of examples.
Lord, I pray for (name, if known) who is having surgery soon. God, I really don't know this person but according to my friends or family, they have an important surgery coming up. Although I don't know much about the specifics, You are all-knowing and understand every detail of what is going on. Please work in the life of (name, if known) and use the doctors and medical staff to bring total healing if that is Your will. Thank you, Lord. Please bless this person.
God, I don't really know anything about (name, if known). I only know that they are in need of surgery, so I come to You as sincerely as I know how and ask You to cover this person in Your grace and love and please take care of them through this time of surgery. God, I ask that the surgery be a success if that is Your will and that You will bless them. God, I also remember to pray for their family during this time. Have Your will and way in the life of (name, if known).