Best Bibles For Journaling
Are you looking for various ways in which you can grow and progress in your spiritual journey? One good method is by using a journaling Bible as you read and study. Journaling Bibles help you reflect on what you are reading and dig deeper into the Scriptures. It also allows you to track your spiritual growth over time. Let's talk about journaling and the best Bibles for journaling and give you some recommendations.
Spiritual Journaling and Bible Journaling
On LivingPraying.com we have talked quite a bit about using journaling in our private spiritual times with God. It has been long considered a spiritual discipline that has been used for centuries.
We encourage journaling as a part of your Bible study and quiet times because of the many benefits it gives us.
Spiritual journaling can help keep your devotional life focused and serve you as you pursue your relationship with Jesus. "Spiritual journaling" and "Bible journaling" can be one and the same.
However, in this article, we are defining "Bible journaling" as journaling that you do inside your actual Bible rather than an additional journal or note-taking book of some sort.
The difference between simply doing a spiritual journal and having a journaling Bible is that in a journaling Bible you have the space to write your thoughts, your ideas, and your prayers into your actual Bible rather than having a separate Bible and journal. You will also find that the paper in a journaling Bible is a bit thicker in a Bible than in a standard Bible.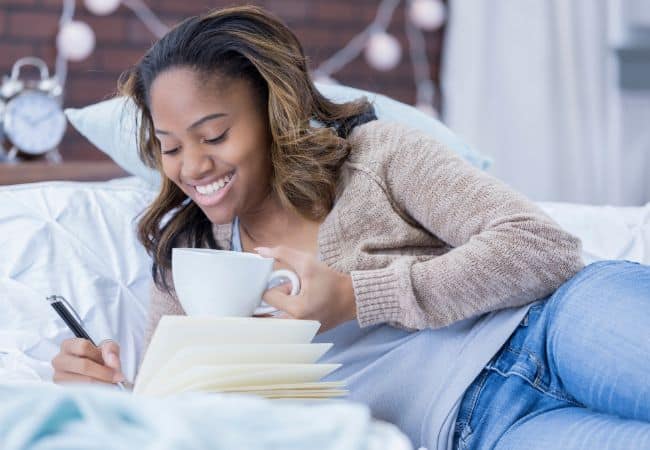 ---
Advantages of a Journaling Bible
1- Using a journaling Bible can make the process of Bible journaling easier and more compact since you are literally writing your notes, prayers, etc., on the extra space that is included in a journaling Bible.
2- If you carry your Bible and journal to a Bible Study or church, you only have one book instead of two.
3- Most journaling Bibles are designed with additional elements for those who enjoy the more creative side of journaling.
Disadvantages of a Journaling Bible
1- A journaling Bible can limit the space in which you have to use, whereas a full, open-spaced journal will generally provide you with more space (virtually unlimited) when writing your thoughts, prayers, and notes.
2- A journaling Bible will attach you to that particular Bible in your note-taking and journaling, whereas a separate journal allows you to use other Bibles and other Bible translations as well.
---
There really isn't a right or wrong decision. You may want to try a journaling Bible for a while. You may decide that it's the perfect combination for you. Obviously, many people love using the journaling Bibles. However, if you use it for a while and decide it's not right for you, it's not a heavy financial investment and you can change to the type of Bible or journal that you want to use.
Benefits of Using a Journaling Bible
A Journaling Bible can help us develop healthy spirituality evaluation.
Bible journaling or spiritual journaling is not something that you need to do legalistically or to help you "grade" your level of spiritual growth. In a "healthy" way, it can help you to evaluate what God is teaching you and help keep you motivated in your walk with Christ.
Never to be used in a burdensome way, Bible journaling can help keep you grounded in a regular time of prayer and spiritual formation.
---
A Journaling Bible Can Help Us Express Prayers and Thoughts To God
When you actually gather your thoughts enough to make a few notes about them on paper it can open up a greater focus on the scripture or topic at hand. It can also help you as you phrase your prayers to God.
God certainly understands your heart's prayer but when you write it down it helps you clarify in your mind what you are saying to Him.
---
Bible Journaling Can Give Better Structure In Our Quiet Times With God
We don't want to dive into God's word with our journaling Bible and make ourselves a rigid, law-based, formula that must be followed. However, Bible journaling can bring some structure to your quiet times with God and can be very helpful. You should allow freedom within that structure, but using a journaling Bible can help organize your time in the word.
---
Bible Journaling Can Help Us Remember Things God Has Done
When you have used the practice of spiritual or Bible journaling for a while you can look back and be reminded of how God has worked and the prayers that He has answered. Bible journalers can have an advantage in remembering those things as they write notes, prayer requests, and personal reflections to God and to themselves.
---
A Journaling Bible Can Help You Provide a Written Spiritual Heritage
This may not be a goal for your journaling. However, some people who journal through the years leave those notes for their descendants as a lasting heritage to encourage and help future family members in a spiritual way.
If you would like to leave an impactful written legacy that might affect several generations you could consider keeping your journal in a way in which you would want to pass it down to other generations. We hope you will take a look at some of the best Bible journals and consider them as you look for helpful resources in your spiritual walk.
---
A List of Our Top Recommended Bibles For Journaling
What is the best journaling Bible for you? That is going to depend on you, your personality, and your likes. However, Here is a list of some of what we think are the best Bibles for journaling.
Journal The Word Bible (NIV)
The NIV Journal the Word Bible can help you express yourself in a creative way as it allows ample room for note-taking that you can do adjacent to the scripture passages as you read God's word. The one shown is teal, however, it comes in quite a few additional colors.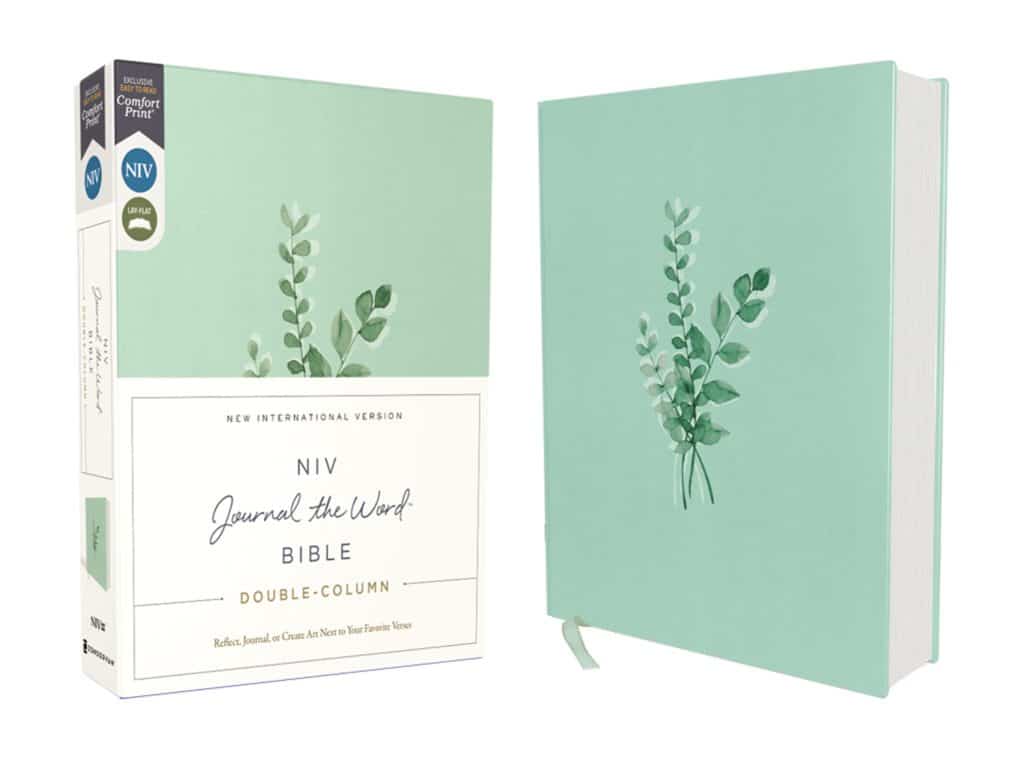 The cream-colored paper also has some lightly ruled lines in the margins which can make it very helpful as you reflect on God's word.
Expertly designed for the New International Version (NIV) text, The popular Zondervan NIV Comfort Print® typeface allows you a pleasant experience when reading and the NIV is the most widely read English Bible in contemporary form. We gladly put it on the list of the best Bibles for journaling.
Click Here For Additional Colors For Journal The Word Bible
---
ESV Journaling Bible
If you want an ESV journaling Bible this might be one for you! This version has a cover and formatting that gives it the look of a very fine and distinguished journal. It has 2-inch ruled margins in which you can write your observations, your feelings, prayers, and other journal entries.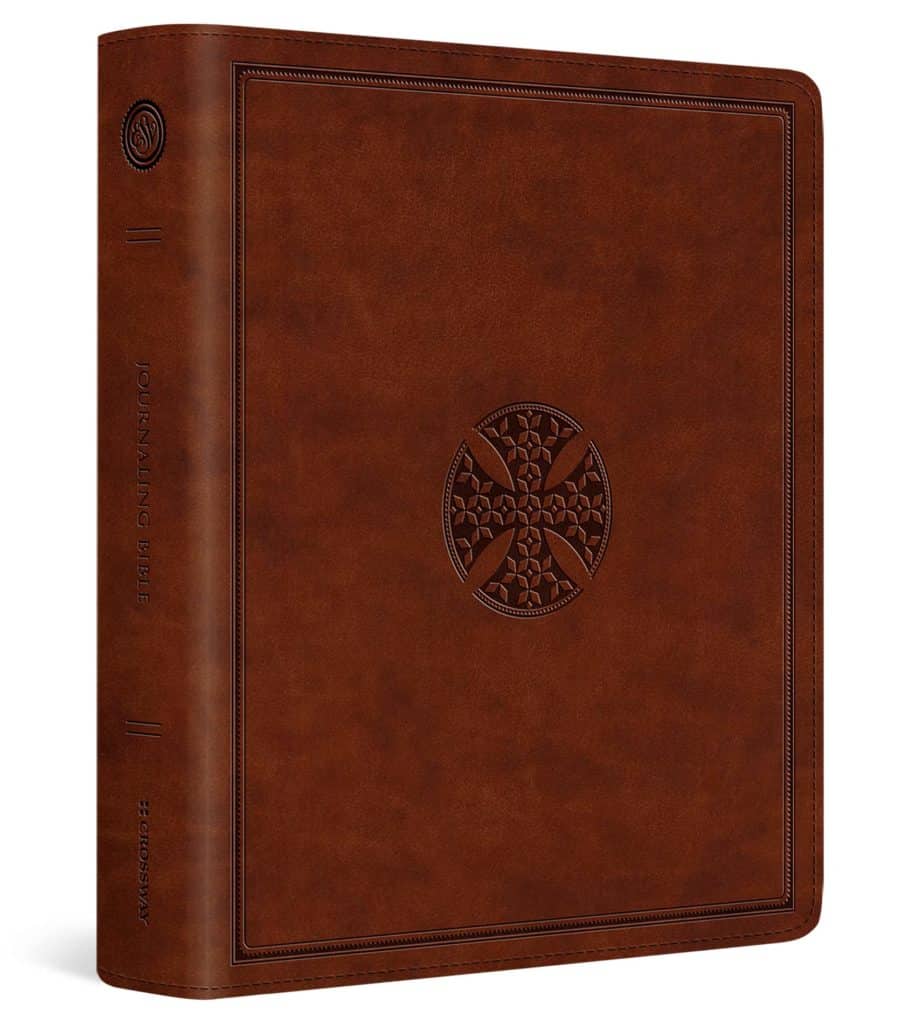 This Bible makes a very nice gift, and it can also be a great keepsake for those who truly value the written word of God. It works well for a women's Bible or a study Bible for men.
The ESV Journaling Bible has 1,088 pages, black letter text with a double column, and a paragraph format. It has cream-colored pages and includes book introductions.
Click Here For Additional Colors For The ESV Journaling Bible
---
Beautiful Word Bible (NIV)
You will find yourself drawn into God's word because of how colorful, illustrated art or "verse art" is and the powerful images that lend themselves well to the scripture passages. You can fill the wide margins of this Bible with your thoughts, prayers, and artwork.
The popular NIV Beautiful Word Bible now has 100 additional illustrated Bible verses with added peel-and-stick tabs. This Bible offers refreshing visual representations as well as the written word of God from the New International Version.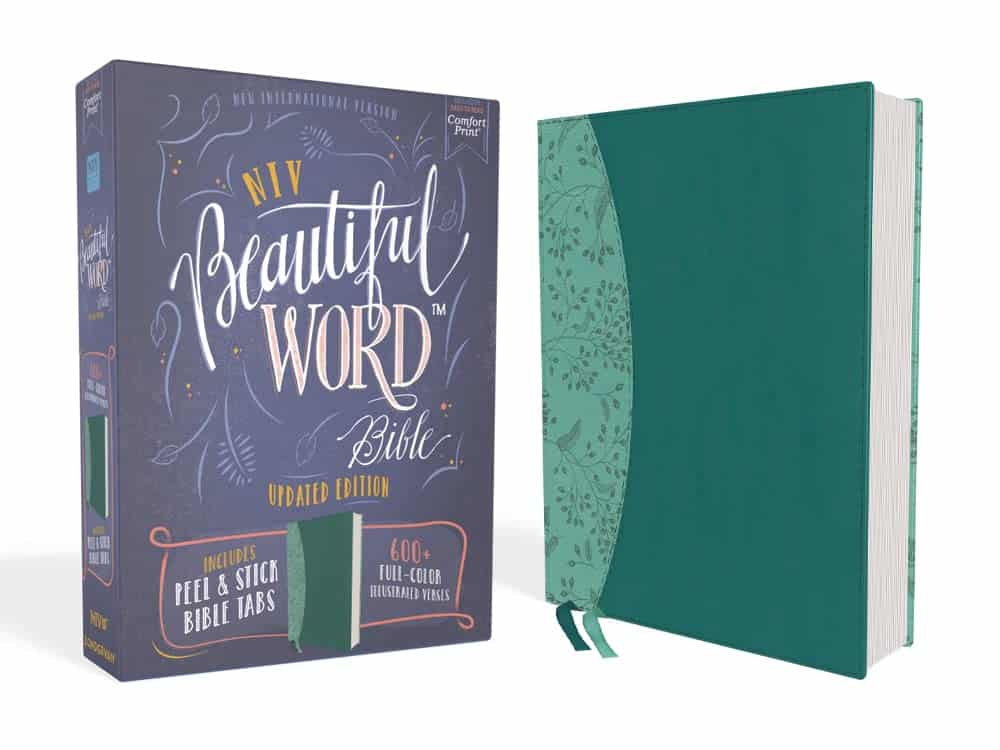 The NIV Beautiful Word Bible also has the Zondervan NIV Comfort Print® that allows for an excellent reading experience. This Bible contains the entire text of the accurate NIV version of the Bible, 600 fully-colored illustrated verses, and also adds the peel and stick book tabs.
The NIV Beautiful Word Bible has wider margins and great quality paper for your journal entries, notes, or artwork and certainly qualifies as one of the best Bibles for journaling.
Click Here for Additional Colors For the Beautiful Word Bible
---
Artisan Collection Bible (NIV)
If you are looking for a new Bible that is quite different and allows for much creativity in a journal Bible, the Artisan Collection Bible may be a good selection for you. It can help you express your thoughts and feelings in quite a creative manner. While our ultimate focus is the word of God, this journal gives you an invitation to draw, write, and take advantage of the features inside of this well-crafted journaling Bible. It features unique expressionist art by Leslie Vann.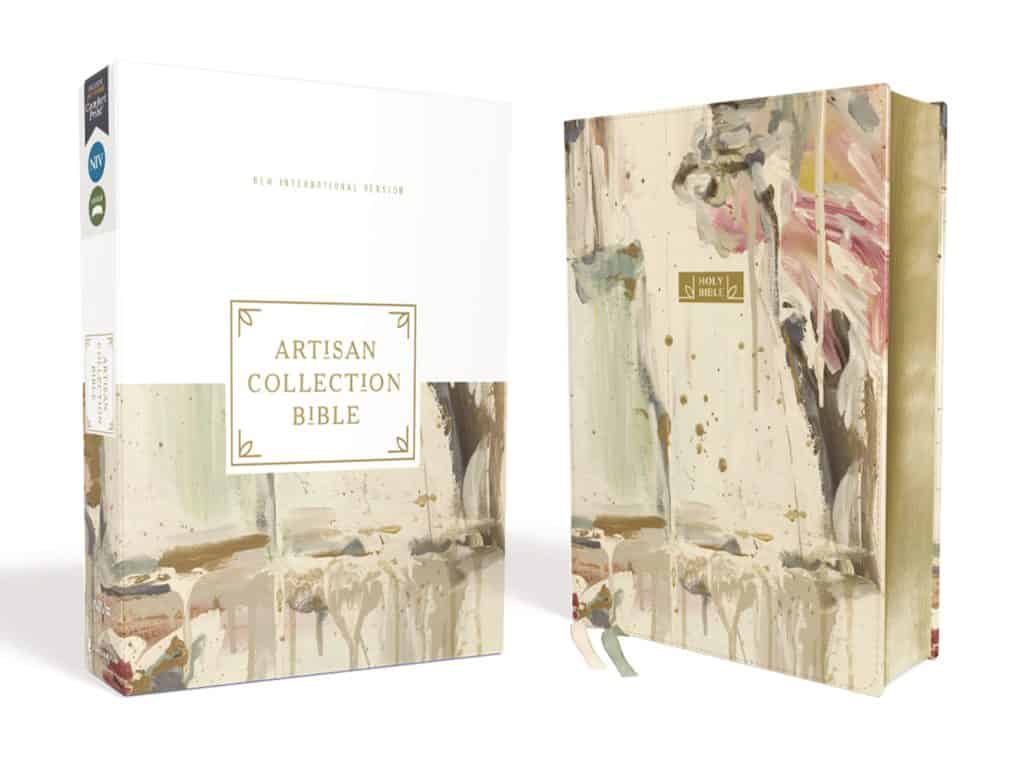 It has the complete text of the New International Version of the Bible and brilliant variations of cover designs. It has lined, wide margins for Bible art journaling, artwork, and note taking. It is a unique Bible in terms of the physical structure and can help your chronicle your faith journey in creative ways.
It also has the popular Leathersoft cover that lays flat when open. For Biblical and artistic journaling this Bible provides more opportunities than most Bibles. It's a creative Bible journal for many and one of the favorite journaling Bibles for those who want to combine their reading of scripture with creative journaling. The Artisan Collection is a stand-out as one of the best Bibles for journaling.
---
Illustrating Bible (CSB)
This popular Illustrating Bible is in the Christian Standard Bible version. However, it does come other versions. This Bible was designed to encourage people in their Bible journaling. This journaling Bible gives you the opportunity to express your faith right onto the pages of your Bible.
It offers a great method for you to be more engaged with the scripture passages as you spend time on your relationship with God. You can decorate and personalize it as you wish and creatively express yourself as you write notes, and reminders, and mark your favorite Bible passages.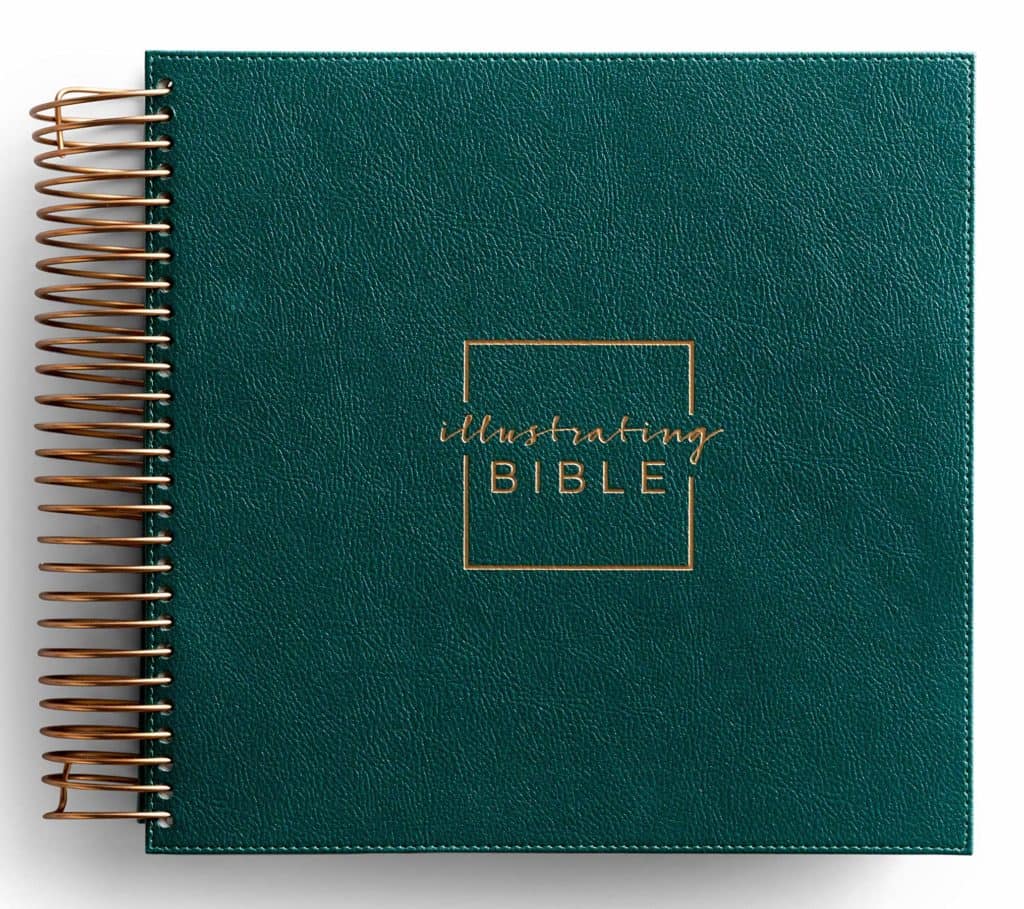 The extra-large 3.75 inch margins along with the thick premium paper can make this one of the best journaling Bibles for you. The paper is 75% thicker than a regular Bible allowing you to express your prayers, create art, and would be a good choice for your first journaling Bible.
The thick paper prevents bleed-through that can happen when you write inside of a normal Bible.
As with some other journaling Bibles, you can use crayons, colored pencils, gel pens, markers, chalk, and other types of tools. You can employ more of a scrapbooking style if that is your preference.
The Illustrating Bible comes in quite a number of nice colors and it lays flat when it is opened helping you as you apply your own creativity.
Click for For additional colors for the Illustrating Bible
---
The Prayer Journal for Him:
A Daily Christian Journal for Men to Practice Gratitude, Reduce Anxiety and Strengthen Your Faith
Designed for men, this has been described as a perfect tool to grow a man's faith.
Many men seem to find it hard to know what they should write in a journal, and therefore they don't journal or put it off. This journaling Bible takes the stress out of trying to figure out what to write.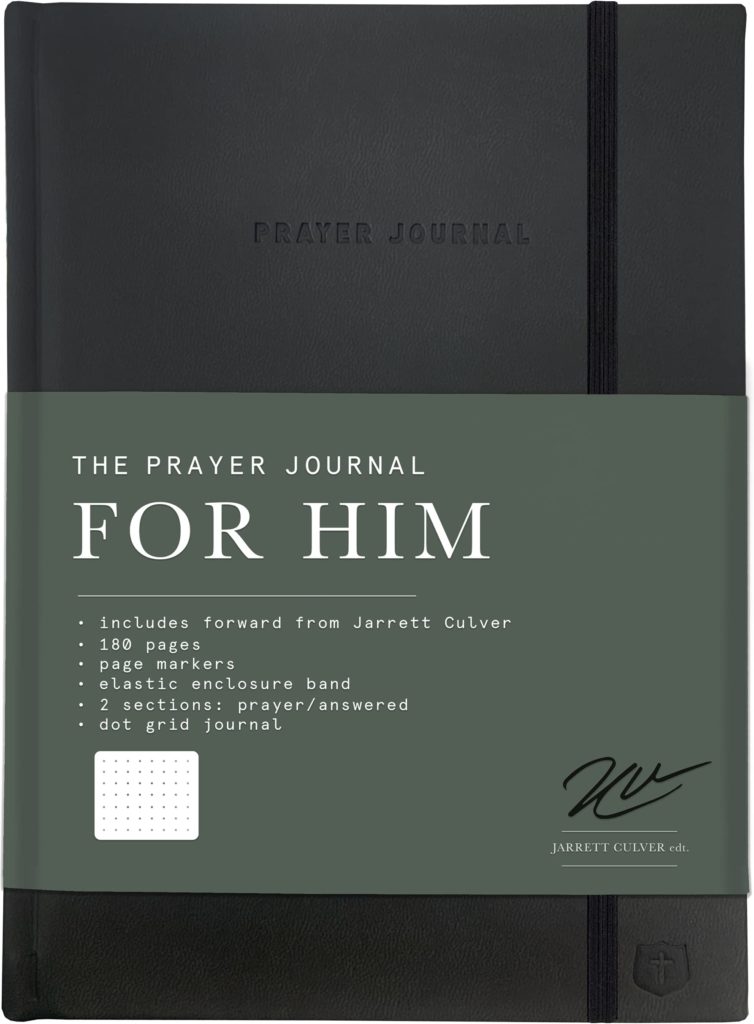 It makes it easy for a man to get focused on what really matters and reflect on the wisdom from God, give God all the praise, and track the man's spiritual journey.
We can gladly promote this as one of the best Bibles for journaling for men.
---
Tyndale NLT Inspire Bible
The Tyndale Inspire Bible was a first-of-its-kind award-winning Bible that remains popular today.
It has over 400 line art illustrations that are spread throughout the pages. You can color in the illustrations to make each one be unique to you and your personality.
Each page has two-inch-wide margins that include either scripture line-art or ruled space for you to write your notes, prayers, or to draw and create. writing notes and reflections, or drawing and creating.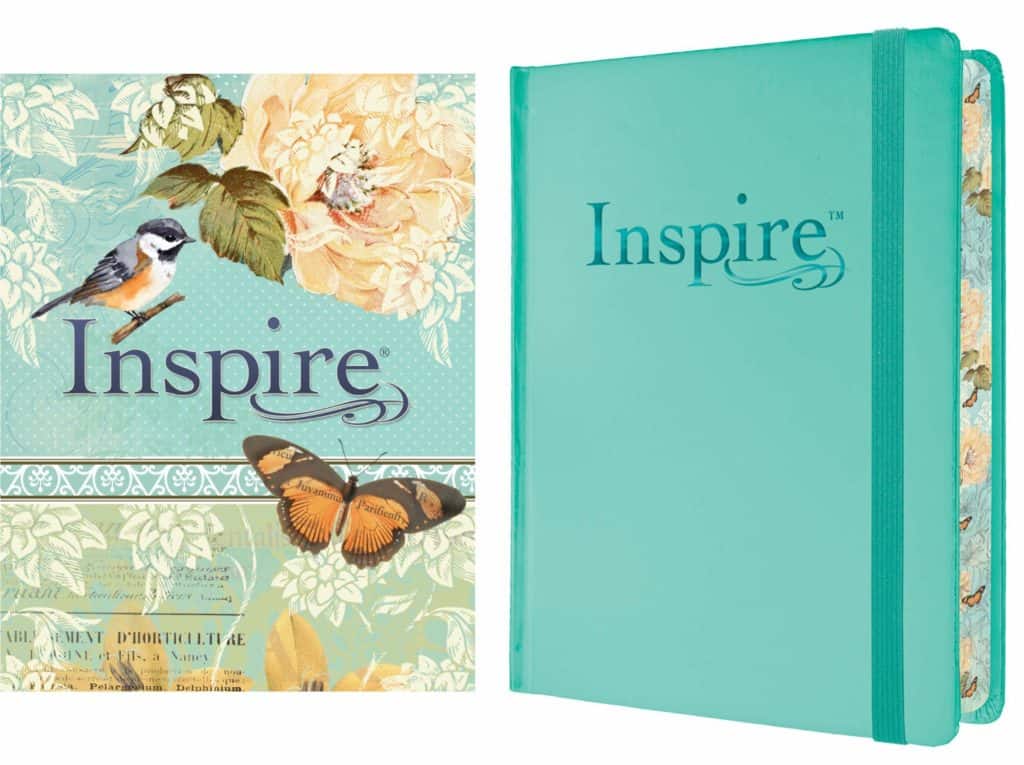 It's a great purchase for yourself but it also makes a great gift for others.
The 8.65-point font is larger and, therefore more easily read than some of the other creative Bibles out there. The high-quality cream-colored paper makes it a great choice as you venture to creatively respond to God's word right on the pages of your Bible.
The popular NLT version that we use frequently on LivingPraying.com gives another spark of creativity and accuracy that we like about this particular Bible. This journaling Bible is designed to appeal to art-journaling enthusiasts and those who love the adult coloring book genre.
Spiral Bound Journaling Bibles
There are some companies that produce some nice spiral-bound journaling Bibles also. Sometimes the ease of use in opening the Bible flat on your table or desk is a feature that some people like. The Illustrating Bible CSB Green (Spiral Bound Journaling Bible) is one of the very fine choices if you want a spiral-bound journaling Bible.
Sale
---
Conclusion
We hope that our list of the best Bibles for journaling has been helpful to you.
Even if you decide that you don't want a journaling Bible, we hope that you will consider keeping a spiritual journal. It can be a helpful resource as you pursue the greatest relationship in life – a relationship with the living God.
It's great to be able to write out your personal reflections in a Bible that is made for journaling, or a journal that is separate.
Whatever choice you make about journaling, we pray that you will engage yourself in the pages of scripture and in prayer and a relationship with Jesus Christ!