As we have promoted many times on this site, we encourage our readers of any age, beginners or advanced, to have a Bible (or Bibles) that they will read and study because God's word is of ultimate importance as we participate in everyday life. Life is too hard if you don't have the fundamental instructions found in Biblical principles. However, even more so, we can trust the Bible to help us focus on our faith journey on what is most important—a relationship with Jesus Christ.
In other posts we have looked at several study Bibles for women and study Bibles for men, However, here we want to take a look at some of the best study Bibles for young adults. We understand that some of the recommendations on those pages will be found on this page as well. However, some of the study Bibles that are on the market serve well across the board for young or old, male or female.
However, here we want our aim to be more pointed at young adults and their particular needs.
Great Choices for Young Adults
We will take some time and explore several great choices. However, if you are looking for an answer quickly, we will go ahead and give you what is normally our all-around suggestion for a great study Bible.
It is highly recommended for an all-around good Bible in which to explore God's word, get relevant insights, and give some great commentary and spiritual guidance along the way.
Our all-around pick as one of the best study bibles for young adults is the Life Application Study Bible. Our favorite is in the New Living Translation version. The flow of the New Living Translation is good, it's modern but doesn't compromise the text. However, the Life Application Study Bible offers many versions. So, our favorite is:
Sale
The Life Application Study Bible comes in quite a few versions of the Bible, various colors, plus regular and large print.
The Advantages of a Study Bible For Young Adults
The Bible in its most basic form is incredible, can change your life, and give you a deeper understanding of life in general. It can point you to joy and freedom in Christ in your everyday life and teach you how to let the Holy Spirit work in you.
It can help every person regardless of race, creed, color, or cultural background. The Biblical advice found within the pages of this incredible book can encourage you and provide you with a firm foundation. If you apply the Bible knowledge that you attain and apply God's word in your daily life, you can be transformed!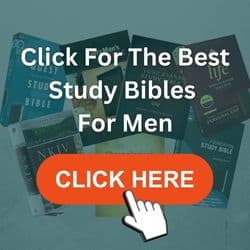 So, any Bible can help you do those things. However, a study Bible can even be a greater help. For those who are young adults, more than likely you have many, many years ahead to apply God's word.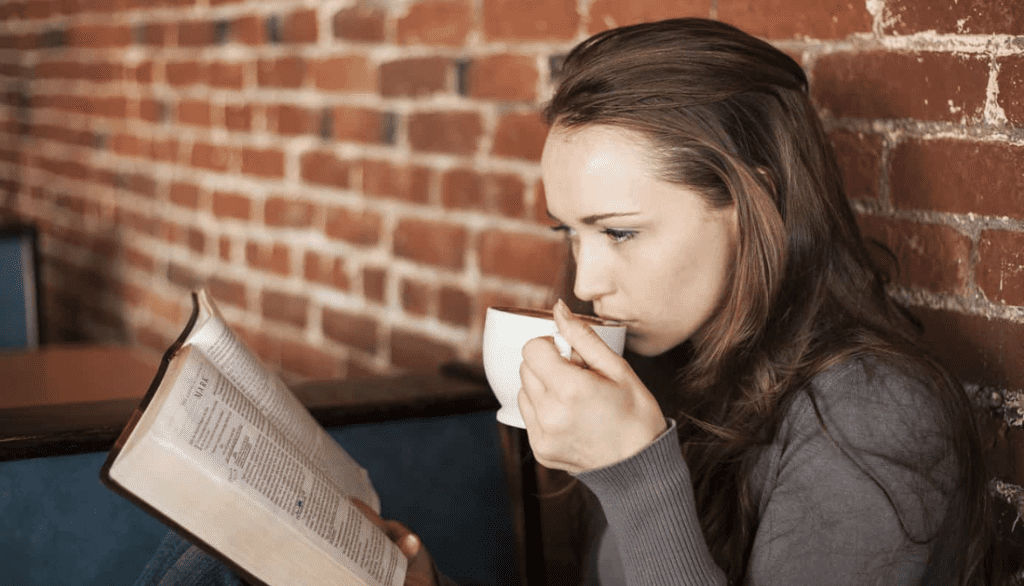 As a young adult, we would encourage you not to wait. Far too many people wait until later in life to be serious readers and engage in regular Bible study. and, if you use a study Bible you bring so much help and encouragement to the process.
Study Bibles, whether they are for young or old, contain quite a few study tools. Most of the time they will incorporate detailed book introductions. Remember, the Bible is a collection of 66 books! Most of the study Bibles will have verse-by-verse or chapter-by-chapter study notes. When you need to look up a word in the Bible, many of the study Bibles will have a fairly comprehensive concordance.
Many young adults find the extra help in a study Bible to be very encouraging. Also, some of the study Bibles have a lot of scholarly insight from well-respected pastors, teachers, and theologians.
Plus, you will normally get historical maps of Biblical times and many other elements that you would not get in a regular Bible. Although, I could hardly call any Bible regular…as it is the very word of God given to us!

Why Young Adults Can Greatly Benefit From a Study Bible…
People of any age can benefit from all of the extras found in a study Bible. However, as a young adult, you have so many decisions in your daily life and life ahead in which you will need wisdom found in the word of God.
As you develop a deeper understanding of God's word and His plan for your life you won't regret that you have found greater insight into Bible passages and specific Bible verses to encourage you through the good times and bad times of life.
Consider the Bible Translation that You Want
Unlike only a few decades ago when there were only a few English translations from which to choose, today there are quite a few good ones. One of our favorites here at LivingPraying.com is the New Living Translation (NLT). It is one of the new translations, easy to read, and accurate to the original text.
Other very fine translations you may want to consider are the New International Version (NIV), the New American Standard Bible (NASB), the Christian Standard Bible (CSB), the New King James Version (NKJV), and of course, the one we counted on for several centuries, the King James Version (KJV).
If you want to read the Bible in chronological order, we would suggest the Chronological Life Application Study Bible. We would encourage you to have a regularly formatted Bible to go along with it. However, it's actually very exciting and motivating to read through the Bible in a chronological fashion.
So, here are some great choices in a study Bible for young adults.
CSB Tony Evans Study Bible
After years and years of Christian service as one of the most recognized pastors in America, Tony Evans put his heart and soul into the making of the CSB Tony Evans Study Bible. Along with the full text of this CSB translation of the Bible, you will benefit from the many years of study, the preaching, and even the hand-written notes that Dr. Evans collected over the years.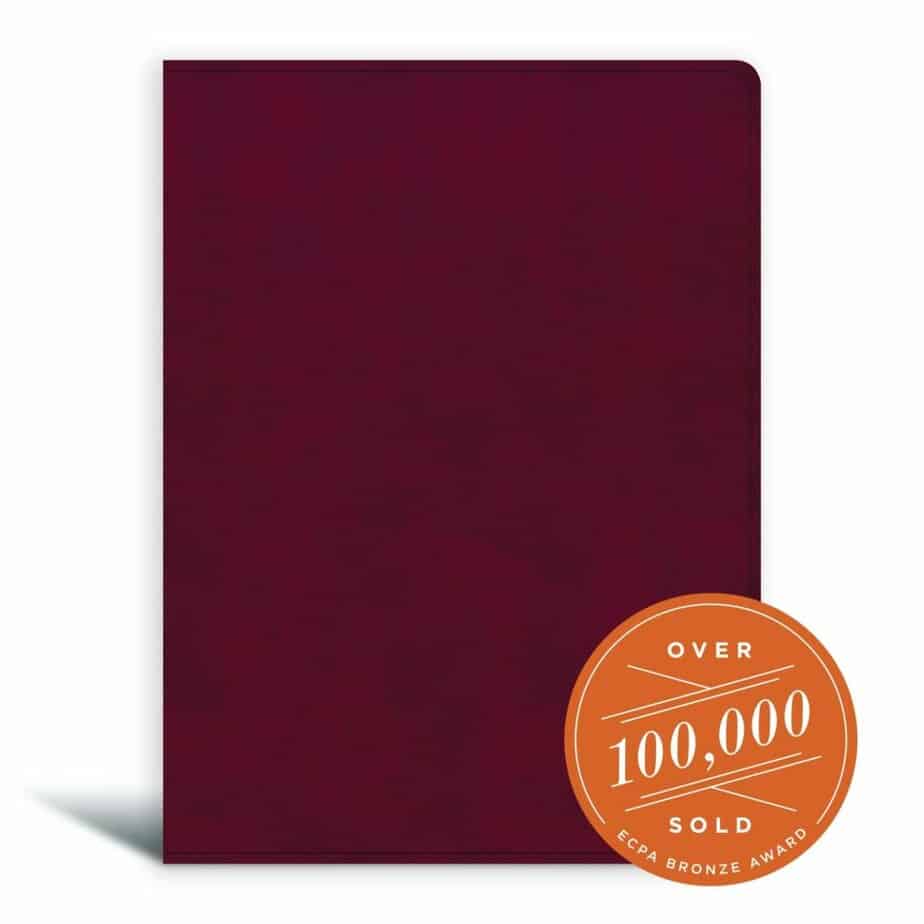 Extensive study notes are placed right alongside the CSB text that will help you understand God's word in a fresh and exciting way.
Along with that, you will also benefit from: 
As a very special feature, you can access over 150 videos that include some of Dr. Evans' sermons, his devotionals, and other teachings via QR codes.
There are 40 inspirational articles included.
Dr. Evans includes 50 "Kingdom Living Lessons" in this Bible.
60 Great "Questions & Answers" from Dr. Evans.
A total of 140 of Dr. Evan's "Hope Words."
A special section that includes key Biblical term definitions, charts that help explain doctrinal & theological concepts, & other assets to help you understand scripture
Includes a Bible Reading plan
Includes a Biblical Concordance
Beautiful full-color maps of the Biblical lands
Employs a two-column format
The binding is Smyth-sewn and has a ribbon marker
The Tony Evans Study Bible would certainly be one of the best study Bibles for young adults and is good for beginning readers and long-term, serious readers.
The Quest Study Bible – NIV
The NIV Quest Study Bible has been a favorite of many for quite some time.
The first Quest Study Bible began in 1989 when Zondervan publishers and Christianity today joined forces to develop a Bible in the NIV version that would answer challenging questions people were confronted with when they read through the scriptures. In subsequent releases of the Quest Study Bible the notes were updated to make sure that the quest bible will stay relevant and current for today's readers.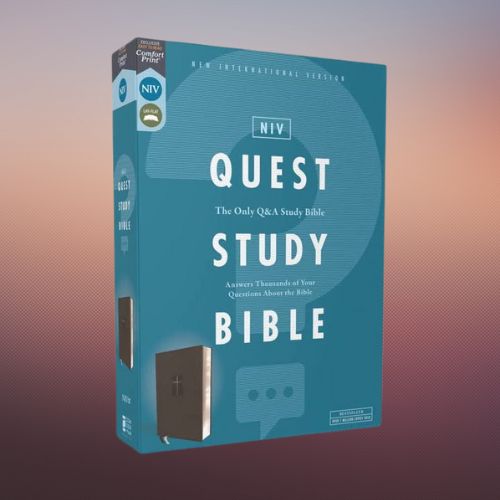 The quest Study Bible includes:
Complete and accurate text of the New International Version (NIV) Bible
It employs over 7,000 notes insightfully arranged in a custom question-and-answer style.
It has almost 350 articles that interestingly investigate some of the most asked questions concerning the Bible.
Also included are introductions of each book of the Bible. These answer questions about each particular book – Who Wrote it? Why was it written? What to look for in that book?
Includes an index of the articles and a subject index that is expanded.
It is fashioned in a single-column Scripture text format and is laid out in two-color page designs that are very modern.
It includes over 150 charts, maps, and timelines, of Biblical events.
A reading plan that has 3 individual choices to follow
Includes an NIV Dictionary-Concordance
The nice Leathersoft cover will lay flat when it is opened.
Thumb indexings make it much easier to find the books of the Bible.
Exclusive Zondervan NIV Comfort Print® typeface that is 9.9 pt.
The Quest Study Bible is a great choice for young adults and other age groups as well. It's a study Bible that will help you in your personal walk with God. It will also be a great help if you are a part of small or large group Bible studies. It's a great Bible for those who are in or going into young adulthood.
Study Bible Especially For Women
The Woman's Study Bible NIV
For women to receive God's truth for harmony, hope, and transformation, The Woman's Study Bible from Thomas Nelson has thousands of verse commentary notes written by women, particularly for women.
Over 80 women from various ethnic, denominational, educational, and professional backgrounds contributed to The Woman's Study Bible. It is built around the entire text of the New International Version – NIV of the Bible. It's a great Bible for a women's Bible study group, home study, and many other applications as well. It's a very nice NIV study Bible for ladies!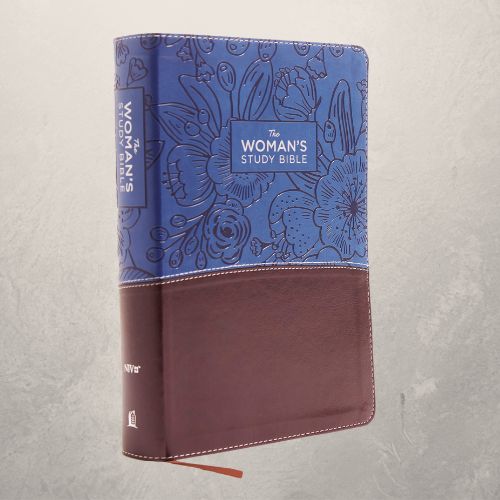 Here are some of the great features in the Woman's Study Bible:
-Exquisite full-color artwork throughout
– Detailed biographical depictions of biblical women.
– Comprehensive verse-by-verse analysis notes
-More than 300 thematic articles in-text
-Insightful articles are written by women who are regarded as theological authorities
-Outlines and introductions for each book of the Bible
– Hundreds of maps, charts, timelines, and family trees with full-color text.
-Words from godly women in history
-Maps of the biblical era on full pages -Topical index and concordance
-Easy-to-read print size of 10.5 points
-Millions of pages of in-depth verse-by-verse study notes
The NIV Woman's Study Bible this Bible serves to combine reliable scholarship and can be greatly helpful in your spiritual development. This study Bible is very relevant to women who are young adults and older.
PHOTO and LINK of NIV Woman's Study Bible

The Every Man's Bible
We would list The Every Man's Bible as a VERY good choice in men's study Bible that fits well for those in the young adult category. The Bible is the answer to every problem a man faces. This study Bible takes a male-centric approach to spiritual and life challenges, demonstrating how Scripture is applicable at every stage of a man's life, from early adulthood on up.
The popular Every Man's Bible was created to assist men in learning what the Bible has to say about the issues confronting men and to help them develop a fuller, richer connection with Jesus.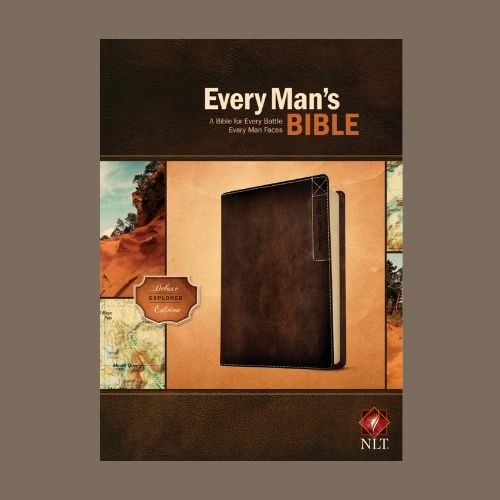 The distinctive qualities of this Bible are as follows:
-Thousands of notes on subjects specific to men, such as pride, courage, temptation, image, and leadership.
-Profiles of both famous and infamous Biblical characters;
50 unique topic features that will help give men much-needed insight into the message of the Scriptures of both famous and infamous Biblical characters;
-Expert advice, synopses of books in one sentence, charts, relationship notes, and a topical index.
Input From Many Scholarly Teachers and Pastors
Also in this Bible are the wise words of many following outstanding Christian leaders including:  David Jeremiah, Stephen Arterburn, Dallas Willard, Michael Youssef, Stephen Broyles, Gordon MacDonald, John Fischer, Greg Laurie, Tony Evans, Bill McCartney, Chuck Swindoll, Chuck Smith, Jr., Henry Blackaby, Leighton Ford,  J. I. Packer, Tony Dungy,  James Robison, Don Everts,  Joe Stowell, Gary Rosberg, Michael Youssef, Stuart Briscoe, and Ken Gire. 
The notes and features were all created with males in mind.
All in all, this is a popular and well-put-together study bible that serves well for young adult men.
Other Great Options for a Young Adult Study Bible
The NKJV Study Bible
It almost goes without saying that The New King James Study Bible, Full Color Edition is a great and trustworthy resource as you explore God's Word, having sold more than 2 million copies. With over 1 million words of original content written by leading evangelical experts, this stunning full-color Bible offers a comprehensive study tool.
The New King James Version is a fine Bible translation with accuracy and clarity, together with more than 1,000 articles, notes, word studies, photographs, illustrations, maps, and other resources. Those things make this Bible an ideal choice for assisting you in engaging and comprehending Scripture in-depth.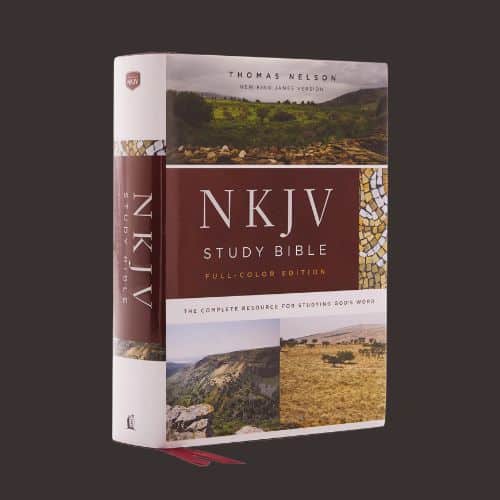 The NKJV Study Bible has many features. These are just a few!
-It is beautiful throughout in full color.
-There are more than 250 images and illustrations of significant sites, objects, and works of art.
-Special study aids to better comprehend, enjoy, and apply what you read:
-Background knowledge, historical context, and content summaries are all provided in great detail in book introductions, book outlines, and timelines.
-Over 850,000 words of insightful analysis are provided in 15,000 study notes at the bottom of the page.
-Strong's numbers and 345+ word studies provide an understanding of the meaning of the ancient Greek and Hebrew terms.
-Understanding of the historical setting of Scripture is deepened by 150+ Bible Times and Cultural comments.
-110+ Articles that elaborate on and clarify important biblical ideas
-Easy-to-use indexes and concordances that help you quickly locate what you're looking for
-Concordance that has over 6000 terms with 37,000 verses
NLT Chronological Life Application Study Bible
If you want to read the Bible in chronological order, we would suggest the Chronological Life Application Study Bible. We would encourage you to have a regularly formatted Bible to go along with it. However, it's actually very exciting and motivating to read through the Bible in a chronological fashion.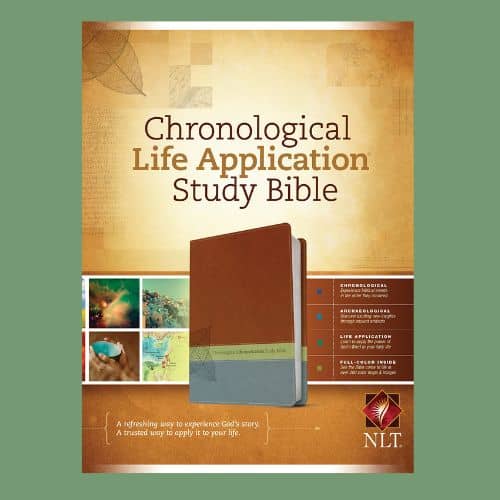 The gorgeous full-color Chronological Life Application Study Bible offers a new perspective on God's Story and a tried-and-true method for putting it into practice. In a chronological Bible experience. Travel through the 10 eras of Bible history to get a greater comprehension of God's Word. Features fresh information on Bible history and geography as well as Life Application notes and features from the popular Life Application Study Bible.
This is a great, fun, and informative way to read and study the Bible. We would encourage you to have and also use regularly formatted Bible as well, However, the experience of reading the Bible in a chronological fashion with all of the study helps in the Life Application Bible is a great combination.
Conclusion
A good Bible translation, whether it is categorized as a study Bible or not is worth everything. For us to have so many choices of translations and versions of God's word, it's incredible.
It is our prayer that you will choose a Bible for your own. Our main hope and prayer would be that you read it, study it and fill your minds and hearts with the precious and everlasting word of God, the Bible.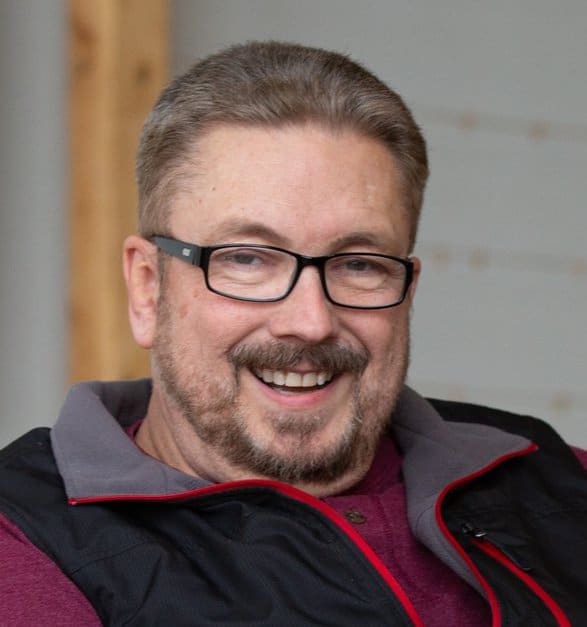 Brian is a Christian Blogger and website developer and has served over 35 years as a Pastor of Worship and various Associate Pastor roles in several churches in the state of Georgia. He earned his Education degree from North Georgia State University and attended New Orleans Baptist Theological Seminary. He and his wife live in southern Hall County, GA.