We love study Bibles and believe that a good all-around study Bible is a great tool for a person to have on hand to help them in their spiritual growth. A study Bible can help make the Bible come alive as you can get more understanding and insight into the Biblical text. We will take a look at some of the best study Bibles.
What is THE best study Bible? Well, that is a matter of debate and personal preference. There are a lot of study Bibles available today. So, if you want a great study Bible that will be a great resource for you, help you gain a deeper understanding of the Bible, and encourage you in your daily life, we will give you some great ideas.
Whether it's your first study Bible or you just want a new study Bible to add to your other study aids, we will try to help.
If you are looking for specific study Bibles for women or study Bibles for men you can check our pages on those.
The Life Application Study Bibles are some of the best study Bibles that I use and recommend quite a bit because it is designed for just what the title says – Life Application. The study notes and book introductions can open the doors to a greater personal Bible study or give you insight as to what your church or small group is studying. The NLT and the NIV are our favorite versions of the Life Application Study Bible family.
Sale
Sale
One caveat about a study Bible is they are typically a bit more costly than a regular Bible without all of the features. However, they are still in a very reasonable price range. We will take a look at quite a few study Bibles below. But first, let's look at some reasons we even need one.
What is the Purpose of a Study Bible?
The best study Bibles that we would recommend would have the full text of the Old Testament and New Testament in one of quite a few versions (that we will look at in just a bit). However, in addition to having the full word of God in an accurate version that you can trust, you also have many other aids in a search for the best study Bibles.
Reasons to Have One of the Best Study Bibles
1- A study Bible will often have interesting and sometimes detailed book introductions that will give you an idea about the setting of the book, the reason for the book, and the main themes that may run through the book. Many times they will include information dealing with the cultural backgrounds of the content of a particular text. This information contained in the study notes of a good study bible can help you dive into a more in-depth study of God's word.
2- People who love Bible study usually enjoy reading commentary from scholars and teachers. A study Bible will normally have notes and commentary to go with the particular Bible reading that you are doing. These portions of scholarly insight may be in the margins or down below the body of the text. It can be very helpful in understanding the passages. There also may be word studies and visual aids in a study Bible.
3- Study Bibles can give you information about where the events you're reading about occurred, the approximate time the text was written, and give you an idea of where the event occurred – or sometimes exactly where the event occurred. A good study Bible will have a map of the area of the Middle East where Biblical events took place. Many of them will include timelines of Biblical events and you will find it easier to understand how various Biblical events relate to each other.
4- A good study Bible will also give you cross-references that will help you find passages that are similar or related to the topic that you are studying. Cross-referencing can help you put your study topic in greater context with other portions of the Bible.
5- The right study Bible can give a new believer some very important notes about how the Bible applies to everyday life. It's great for new believers to start Bible reading. We would suggest that new believers choose a more modern translation of the Bible.
Our favorites for new Christians are the New Living Translation, the New International Version, and the Christian Standard Bible. However, there are quite a few others that are very good as well. The New American Standard Bible and the English Standard Version are very good translations as well as the New King James Version and the King James Version.
6- A good study Bible may also have a nice concordance at the back where you can find out where keywords in the Bible are found and a concordance can be an extremely good friend when you are studying God's word.
7- Study Bibles are simply a practical way for an average person to study and grow in their Christian faith and begin to understand scripture. Certainly, there will be teachers and non-teachers alike who want to have extra study tools that are separate from the Bible. These may be additional commentaries, a more comprehensive concordance, or other versions of the Bible at hand.
8- All in all a good study Bible is simply a practical way for the average person to study what God says, understand what Jesus did for us on the cross, and apply Biblical principles to our lives.
Too Many Choices?
Today in the United States and many other countries as well we have a remarkable choice of study Bibles from which to choose. It almost seems like too many when we consider that there are still many people groups in the world who do not have any Bible translations in their language.
However, fortunately, there are organizations that are trying to remedy that situation. If you're interested in an organization trying to get the Bible translated into many other languages, check out IllumiNations 12 Verse Challenge.

So, here are some of the most popular study Bibles on the market. I prefer some of these translations more than others, but every Bible translation on this page is good. They help you with a more in-depth bible study than a regular Bible that doesn't contain the extra study aids.
The following list is not necessarily in the order of the most important study Bible. When you get down to some great resources that we are listing here, some of the decisions you might make about a study Bible may just come down to personal choice and various features. As stated, here we will not recommend a Bible that I do not think is good.
One note to remember – most all of these recommended study Bibles come in other colors than what may be displayed on this page
I guess we have made it no secret that I recommend the Life Application Study Bible for general all-around use as a Bible. To be quite honest I would have to confess a little bias because it's the study Bible that I use and have had for quite a long time and in several translations. Although I use the NLT version, there are fine Life Application Bibles in the New International Version, the King James Life Application Study Bible, and the NASB version as well (hardcover). But, I like the easy-to-read, modern English that the NLT uses.
The study notes are very practical. It provides some very helpful commentary that will help you apply the scripture to everyday life. I love the historical background and the fairly extensive study notes found in this Bible.
The version I use most often right now is the New Living Translation but I have a Life Application Bible in the King James Version. However, I also have one that is really cool – the Chronological Life Application Study Bible which you will see later on in this list.
I really enjoy the NLT Life Application Bible, but if you would rather use the New International Version you can get the NIV Life Application Study Bible.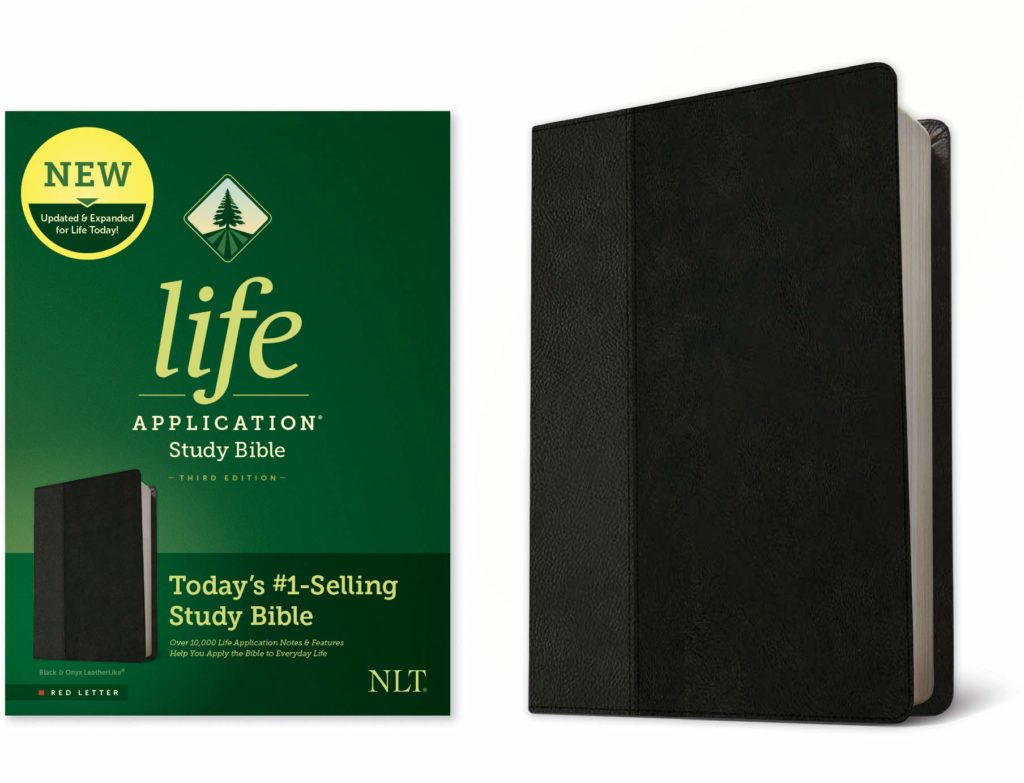 The NLT Life Application Study Bible includes:
The full text of the New Living Translation of the Bible
updated and new commentary about the text has been added.
Features more than 10,000 notes and features that will help you apply the Bible to your personal life
Features over 150 profiles (brief character studies) of personalities from scripture
Solid and in-depth Introductions that give you an overview of each book of the Bible
Inserted within the text you will find charts, maps, and diagrams to help explain the text and the context of the biblical event. In-text maps, charts, and diagrams
Includes its own Dictionary/concordance
Over 500 charts and maps for quick reference about the Biblical passage you are studying
The cross-reference system is in a side-column format for the convenience of studying
Includes a helpful index of subjects for the notes, maps, charts, and Bilical profiles
Words of Jesus in red
Includes a Christian Worker's Resource. This is a very special help that will guide and encourage the reader to be effective in helping and ministering to others.
Full-color maps – 16 pages
Single column format
The Leathersoft cover will lay flat when open
The CSB Study Bible uses the Christian Standard Bible translation as the Biblical text. the CSB Bible itself is an updated version of the Holman Christian Standard Bible. This study Bible version of the CSB is thorough, put together well, and includes popular and helpful Bible study features that would be expected in a study Bible. This is a modern language translation and has become a favorite of many.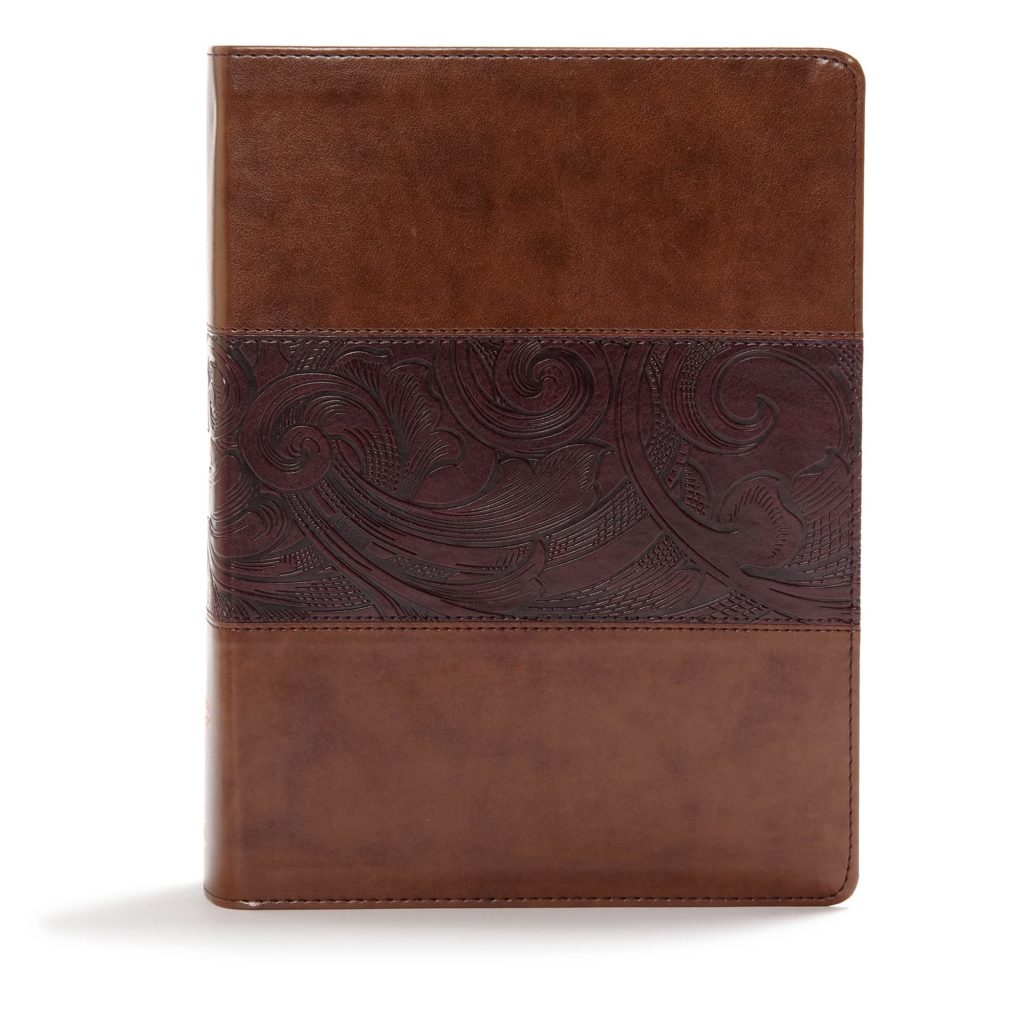 Just a few of the features include:
In excess of 15,000 study notes 
368 individual studies of words in the Bible 
94 photos 
Many Biblical event timelines
Over 50 helpful maps 
44 paintings 
34 full articles about various spiritual topics
21 illustrations/reconstructions 
19 charts 
Helpful Book introductions that include timelines and outlines of the book
Built-in concordance  
The page format is two-column
Detailed cross-references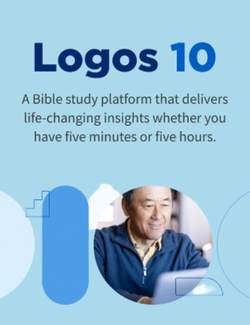 As you are looking for a good study Bible, you may also want to consider the Logos Study Software. It is one of the greatest tools for in-depth Bible study. To have a look, click on the Logos 10 image.
The Quest Study Bible uses the text of the New International Version (NIV) of the Bible The website, Churchanswers.com stated in 2022 that the NIV version of the Bible was now the top seller of all Bible translations. It has been a solid translation for many Christians for decades now.
The Quest Study Bible is put out by Zondervan and edited by Christianity Today International. It is touted as the only question-and-answer study Bible. The reader will find thousands of their Bible questions answered and maybe find answers to questions that weren't even on your radar!
Focus groups were put together in the United States that discussed what type of personal Bible study features might be useful in the Quest study Bible. They helped select the type of features that it would include. The study notes in this Bible are updated in more recent releases so that the notes stay relevant to the readers of this generation without changing the Biblical text or its original meaning.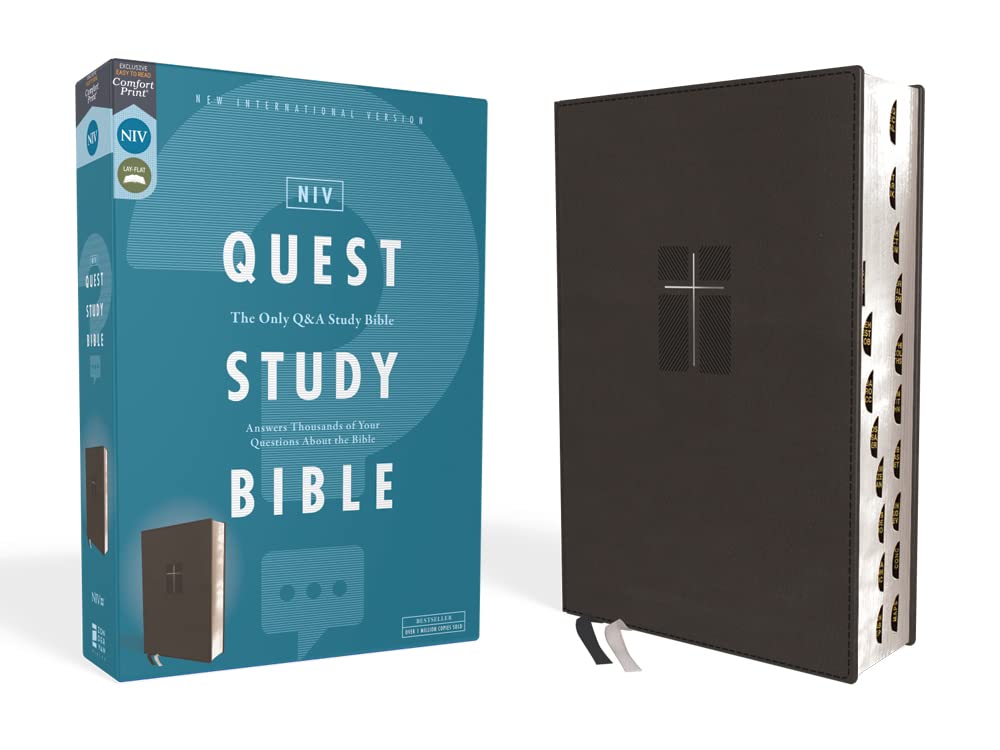 The Quest Study Bible Features:
The complete and accurate content of the New International Version of the Bible.
Over 300 insightful articles address some of the top questions concerning the Biblical text that can be a great aid to your Bible study.
It has in excess of 7000 notes in a question-and-answer format that can help clarify many portions of the word of God.
The individual book introductions will let you know the Who, What, and Why of each book of the Bible which can clarify many things in your Bible reading
Considering the number of articles and subjects, it contains an article index with a subject index that is also expanded to make this study Bible easy when you're looking for the topics you want.
Single-column Scripture text arranged in a modern, two-color page design
It includes more than 150 maps, timelines, and charts to help you see the overall flow of the written word of God.
If needed it includes a Bible reading plan that incorporates 3 different tracks that may be used and followed.
It includes a combination NIV Dictionary-Concordance
It includes 16 pages of beautiful full-color maps of the Biblical regions
The Leathersoft cover that Zondervan provides will lie flat when opened for ease of personal Bible study.
The Leathersoft cover that Zondervan provides will lie flat when opened for ease of personal Bible study
The CSB Tony Evans Study Bible is based on the popular Christian Standard Bible text also.
Tony Evans is a well-known Pastor, speaker, and author who founded and is the senior pastor of Oak Cliff Bible Fellowship in Dallas, Texas. Also, he is the president and founder of the Urban Alternative promoting principles of the Bible to the tough issues that face urban communities. Dr. Evans is committed to sharing the gospel with everyone and has a high commitment to social justice. He is well respected and shared tremendous insights within the study notes in this Bible.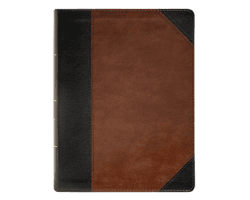 The CSB Tony Evans Study Bible features:
Insightful study notes that are taken directly from Tony Evan's writings as well as his well-delivered sermons
A special feature of over 150 videos of Dr. Evans' devotional teachings and sermons. these are accessible by using a QR code that is included. This is a wonderful resource and bonus to this study Bible.
Includes 40 articles that will inspire and encourage you to walk with God
Includes 50 for what Dr, Evans calls his "Kingdom Living Lessons"
Has 60 "Questions & Answers" that are frequently on the minds of Christians.
140 of what Dr. Evans calls "Hope Words"
It includes a back section that has prominent word definitions, charts about doctrine and biblical theology, special charts and various other helps that would be found in a fine study Bible.
It features a nice-looking two-color design
The Biblical text is in a two-column format
The Binding is Smyth sewn with a ribbon marker to keep your place when reading
It has a concordance, a Bible reading plan for individuals, and it includes full-color maps
A presentation page is included for use if the Bible is used as a gift.
The ESV Study Bible has become very popular. The ESV version of the Bible alone in itself is a choice of many very conservative scholars and pastors. It has been given great marks for its accuracy as a word-for-word translation. The ESV translation tends to sound a bit more formal and maybe not as dynamic as some of the other modern versions, such as the New International Version of New Living Translation. However, it's a very solid translation of the Bible.
When you combine a good word-for-word translation with the following features of the ESV Study Bible is considered one of the best study Bibles for people to consider.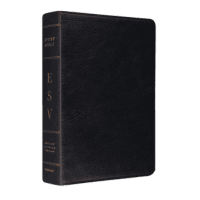 Ir features 20,000 ESV Study Bible notes to help you study
It includes an astounding 80,000 cross-references
Over 200 charts
Includes 50 articles on various Biblical subjects
240 illustrations and maps in full color
Goatskin cover
great quality European paper
Smyth-sewn binding
Lifetime guarantee
The English Standard Version (ESV) is sometimes accused of leaning more toward Reformed Theology or Calvinism in its textual interpretation. It is questioned if the ESV Bible Study Notes reflect Calvinistic theology. It may also be more conservative in nature on some topics. These may be features that some would be drawn to and others might not. However, as non-Calvinists, we still respect this as a fine Study Bible.
The NIV Zondervan Study Bible (NIV Study Bible by Zondervan) is one of the best study Bibles that have several decades of giving value to Bible readers who are looking to take in the meaning of the scripture and apply it to their lives. It is specially designed to comment on and help the reader clarify the text of the now classic NIV version of the Bible.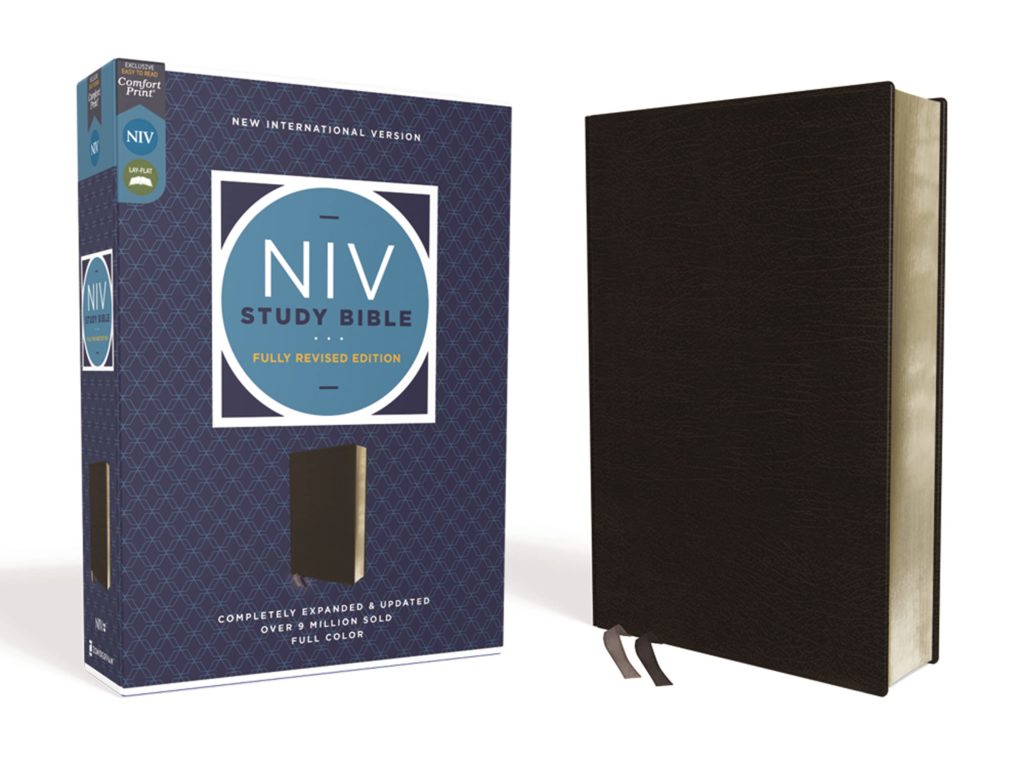 The features of the Zondervan NIV Study Bible include:
The complete text of the easily readable New International Version (NIV) of the Bible
It includes more than 21,000 study notes at the bottom of the pages. The icons that are used in conjunction with those make them easily seen.
This version includes more than 125 articles on various Biblical topics and 16 pages of extremely helpful full-color maps,
It includes the very comprehensive NIV Concordance which has close to 4800 words, and it also contains an index for the subject notes to help you dive deeper into the word.
All sixty-six books of the Bible have introductions and provide various outlines. The 6-section introductions will give the reader invaluable help and information about the background of each book.
Includes Biblical maps, diagrams, charts, and various types of illustrations that you would expect in a good study Bible.
This is a very exciting Bible. We do suggest that you first become acquainted and have a copy of the standard format of the Bible – Genesis through Revelations. However, this Bible can bring the stories alive and into focus and context. It attempts to seam together all of the passages of the Bible into chronological order as well as possible. Chronological Bibles aren't a new thing. However, this is one of the best study Bibles in chronological order.
Maybe it's not the greatest Bible to look up a particular passage or to study a particular book. and it's probably not the Bible that you want to take to church or a group Bible study and try to follow along.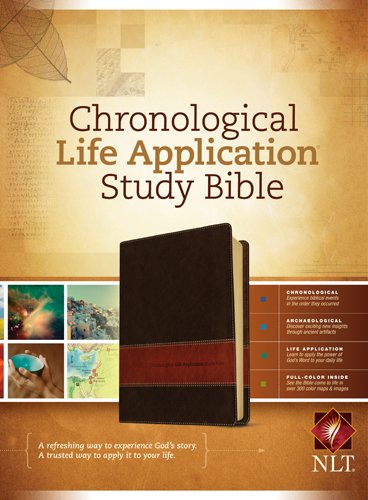 However, I have found it to be fascinating and enjoyable for personal reading and study as goes through the narrative in the Bible in the order and context of the Biblical events. For now, it appears that it only comes in hardcover as the one that I own.
This bible features 10 chronological sections that will guide the reader into understanding how and why the various sections of the Bible fit together wonderfully. The stories are brought to life with photos and archeological notes that help bring the text of the NLT version of the Bible to life.
If you already have a familiarity with how the standard bible is laid out, we highly encourage you to take a look at the Chronological Bible for some of your devotional reading at home!
A No-Lose Proposition
Okay, we have given you our top picks for the types of Bibles in our favorite study Bible category. Those are our list of seven of the best study Bibles. I don't think you can lose with any of those. We are blessed to have so many study Bibles in different translations that are available today.
The bottom line is to allow the Holy Spirit to speak to you through the word of God and love Jesus with all of your heart. Any good Bible can help you in doing that if you apply its teachings. 
There are others such as the MacArthur Study Bible with commentary by Dr. John MacArthur, and the NKJV Study Bible. The NLT Study Bible from Tyndale can also be a valuable resource and an excellent study Bible. Also, Christian ladies will enjoy the best seller, The Women's Study Bible.
The point is, that if you can have a good Bible translation that includes helpful and accurate commentary that goes along with it, why not take advantage of a good study Bible?
I hope that this has been helpful and informative if you are making a decision about the best study Bibles.