When it comes to picking out a Bible for your child, there are a lot of factors to consider. Which translation should you choose? What size Bible is best for kids? And which edition will be most engaging for them? For children's Bibles, it can be important to have commentary on their level to highlight the amazing Bible stories.
What is the best Bible for kids? That depends on a lot of things. However, the good news is that you have many good choices from which to pick. In this article, we will discuss several of the best Bibles for kids and help you decide which one is right for your child!
What is the Best Bible for Kids?
What is the best Bible for kids? The best Bible for kids is a good solid translation that stays true to the original intent of the scripture passage while being understandable to the child. There are many Bibles that are very good for young readers. It's great to choose one that is a good, modern translation that includes supplementary comments or stories that will encourage your children.
However, it is hard to state conclusively what the best Bible for kids might be. When choosing a children's Bible Christian parents have to take into consideration their child's reading ability. Also, take into account their individual personality.
A kid's Bible is a great way to go for early readers and there are quite a few from which to choose. There are many popular kid's Bibles to take into consideration. Consider whether it's for very young children who are on a beginning reading level, or maybe elementary kids that are a bit older. Then later on you might want to consider one of the teen Bibles.
Also, consider how the child is going to use the Bible. Is it primarily for reading at home, or will it be taken to church or Sunday School? Choosing the best children's Bible will depend a lot on making sure it's an age-appropriate Bible with the translation that you want. We also recommend some good beginner's Bibles here.
In this article, we will focus on several good Bibles for younger children and other children's Bibles for older children. Primarily we want them to be drawn to bible reading, a Bible version that is understandable, and we pray that they will read god's word as a regular habit. Our desire is that they learn about God's salvation available to everyone and that learning God's word will be an extremely important part of a child's life.
However, I hope that this article will help you in choosing one that will get your young one reading, enjoying Bible stories, and digging into the word of God.
Adventure Bible – (Age level 7-11) Best Bible for Kids?
The first children's Bible on our list is the Adventure Bible. This Bible is perfect for kids who love to read stories. It includes over 300 full-color comics, maps, and illustrations that bring the Bible to life! Plus, it has a handy dictionary and concordance in the back so kids can look up unfamiliar words.
The Adventure Bible comes in various choices of good translations of the Bible.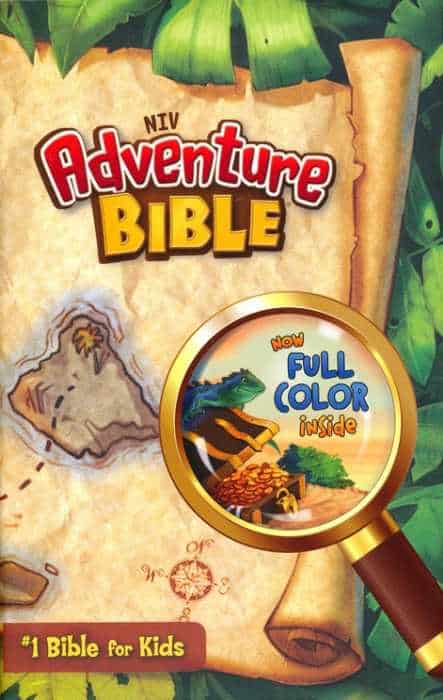 Adventure Bible (NIV) Possibly one of the more popular versions, the NIV Adventure Bible continues to be one of the best children's Bibles.
Adventure Bible (NASB) The New American Standard Bible has long been viewed as one of the most accurate translations. However, it quotes some passages in old English so it might be reserved as one of the older children's Bibles.
Adventure Bible (NKJV) The New King James Version is a popular and accurate translation. However, because of the old English, we would recommend one of the other translations such as the NIV Adventure Bible above.
Adventure Bible (NRSV) This Bible has the complete New International Reader's Version (NIrV). It is written at a third-grade level and is based on the very readable and accurate New International Version (NIV). The NIrV is really good for kids who are learning to read and study the Bible on their own for the first time. Adventure Bible (NIrV)
Over ten million copies of the Adventure Bibles have been sold. This is one of the most popular kid's Bibles on the market and is a great choice for kids ages seven to eleven.
The NIV Adventure Bible is published by Zondervan. You can be confident that this children's Bible is based on a reliable translation and is a wonderful Bible for children.
Some of the great features of this kid's Bible include:
The full Biblical text of the easily readable and accurate New International Version (NIV) of the Bible
It contains compelling and full-color design – The characters, places, and culture of the Bible become more interesting when they are presented in an engaging way.
A Peek at Life in Bible Times—Articles and images chronicle what life was like in ancient times.
Words to Treasure—These are chosen highlights of some of the greatest Bible verses to commit to memory.
Did You Know?—Interesting facts help you understand God's Word and the life of faith
People in Bible Times—Articles offer close-up looks at amazing people of the Bible
Live It!—Hands-on activities help you apply biblical truths to your life
Twenty special pages—Focus on topics such as famous people of the Bible, highlights of the life of Jesus, how to pray, and the love passage for kids, all with a jungle safari theme
Book introductions with useful facts about each book of the Bible
Dictionary/concordance for looking up tricky words
Color map section to help locate places in the Bible
8.75-point type size
The Adventure Bible also features a "Live It Out" section with activities, projects, and challenges to help kids put God's Word into action in their lives. This is an excellent resource for families looking to instill biblical values in their children.
More Christian schools and congregations recommend the Adventure Bible than any other children's Bible. Finally, the Adventure Bible brand has impacted more than 10 million people and families!
Hands-On Bible NLT (Ages 8-12)
The Hands-On Bible is great for kids! Jesus used practical lessons and examples to teach. The Hands-On Bible for early readers employs similar experience-based learning to offer God's Word in a practical and understandable way. It would be recommended on the best children's bible list. It's a fun practical and accurately translated by using the NLT version of the Bible. This is a good selection as a best Bible for kids in terms of hands on activities.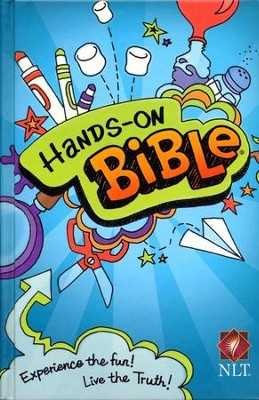 Your children won't just read the words of the Bible; they'll live it and experience it!
The Hands-On Bible has many activities that parents and children may do together. Scripture becomes more relevant and memorable when it is experienced in interesting ways.
It features the accurate, but easy-to-understand New Living Translation, which aids children in comprehending God's Word. Plus, MyHandsOnBible.com gives parents additional activities, music, and other goodies as a free bonus.
The Hands-On Bible is jam-packed with fun, memorable activities that invite kids aged 6–12 to experience the excitement of the Scriptures and learn about God's salvation for us through Jesus Christ. It's one of the best Bibles for young readers and includes the following:
The NIV Bible For Kids
The NIV Bible for Kids is ideal for people searching for a Bible with readable text suitable for kids. The New International Version (NIV) translation is included in an appealing LeathersoftTM cover, making it easy to carry and use on the go. This Bible makes a wonderful present for holidays or confirmations and other outstanding accomplishments, or simply as a stunning new addition to your children's library. The Zondervan NIV Comfort Print typeface is used in the NIV Bible for Kids, making it simple to read for youngsters.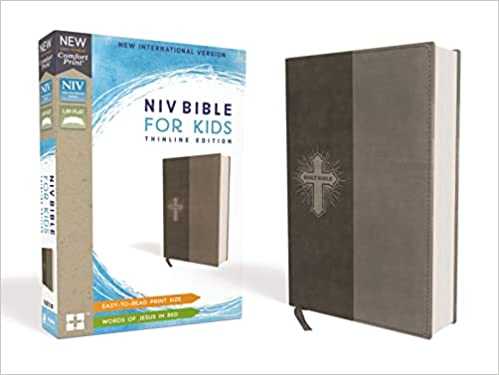 Features include:
The whole Bible text of the very accurate and readable clear New International Version (NIV)
The Words of Jesus are printed in red
Ribbon marker made of satin
Features the popular Leathersoft™ cover
As far as the best Bible for kids, "The NIV Bible for Kids" uses the most popular modern translation ever – The New International Version (NIV). It is an easy-to-read version that serves well for the text of a children's Bible. This Bible uses the accurate, readable, and clear New International Version (NIV) text making the Bible accessible and easy to read for young readers. The NIV in general was actually the result of 50+ years of work.
This extensive translation project was conducted under the auspices of the Committee on Bible Translation, with the assistance of numerous contributing scholars. The translators came from a variety of evangelical churches, and they represented a wide range of viewpoints and various nations, ensuring that the NIV remains at the forefront of accessibility, relevance, and authority by revisiting new research.
The CSB Kids Bible
This CSB Kids Bible gives young readers a Bible translation that is as accurate as possible to the original languages yet great for Bible reading and clear for kids today. The CSB Kids Bible features a durable cover with fun, colorful artwork on its pages.
The CSB (Christian Standard Bible) is one of the newer modern Bible translations that was published in 2017. It is considered to be a more literal translation, meaning that it seeks to maintain the original meaning of the text as closely as possible. The CSB is also notable for its readability and has been praised by many readers as being very understanding. It makes a very good kid's Bible
Shown here in the brown imitation leather and the multicolor hardcover.
!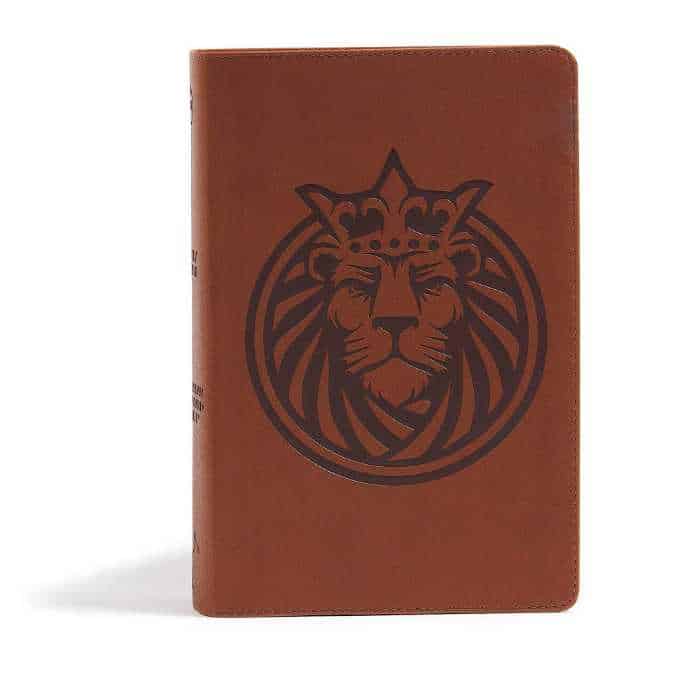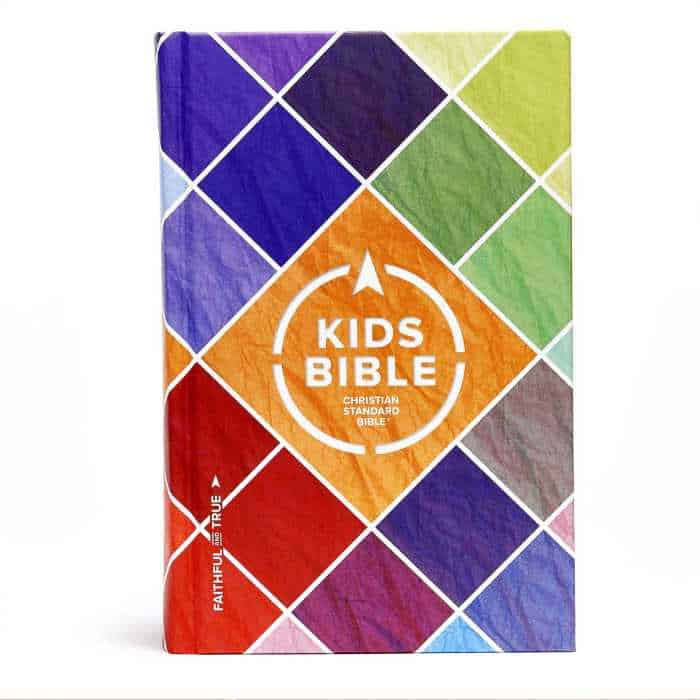 The CSB Kids Bible features:
The complete text of the CSB (Christian Standard Bible) translation
40 colorful pages with maps and study help
Easy-to-read, large type
A checklist of Bible skills
Summaries for the various parts of the Bible
The readable, faithful-to-the-original text of the Christian Standard Bible contributes to the CSB Kids Bible's appeal. The CSB strikes a good balance of readability and accuracy of interpretation which makes the translation an easy-to-understand and trustworthy version. It's an excellent Biblical instructional tool for youngsters to learn and remember today—and to practice and talk about for the rest of their lives.
NIV Boys Bible (Boys 8-12)
Another great Bible for young kids who are male is the NIV Boys Bible.
The NIV Boys' Bible is full of great features and it is put together specifically to help young boys ag 8-12. Many parents have loved this Bible for their sons for many years.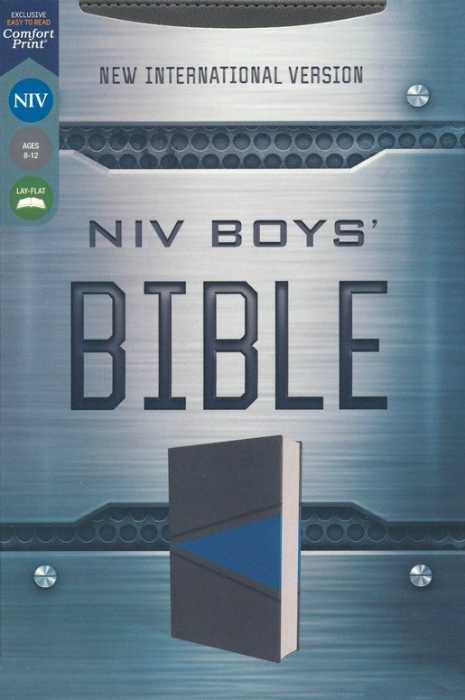 Boys will learn incredible and wonderful facts, learn about inspiring characters in the Bible, and delightfully learn about all sorts of events that they never knew were in God's word. It's a very helpful Bible written for boys and the additional commentary and helps are developed just for the needs and interests of growing boys in this age category. Features:
Entire readable and accurate (NIV) translation of the Bible
What's the Big Deal? – Biblical stories and people that a child just needs to know
Check It Out – These are odd or interesting facts about the characters in the Bible or Bible times
Makin' It Real – This helps the young men apply the stories of the Bible to their life on a daily basis.
Hundreds of highlighted verses – these are verses of the Bible that have been highlighted, chosen, and recommended for memorization.
Introductions – Each book of the Bible has a proper introduction
Modern Leathersoft™ cover that looks cool and feels cool
This Bible is printed in the Zondervan NIV Comfort Print® type
NIV Ultimate Bible for Girls, Faithgirlz Edition (ages 8-12)
The particular Bible for girls is made up of the Biblical text of the NIV translation plus many features for girls ages 8-12. This kid-friendly Bible for girls helps our young ladies in learning God's word and understand that it's real and totally relevant to their lives.
It will teach and help them understand the story of God and his people not only for characters in the Bible but for them also. This Bible is filled with supplementary material that is from the popular Faithgirlz project which is specifically designed to help minister to the hearts of this age group of girls.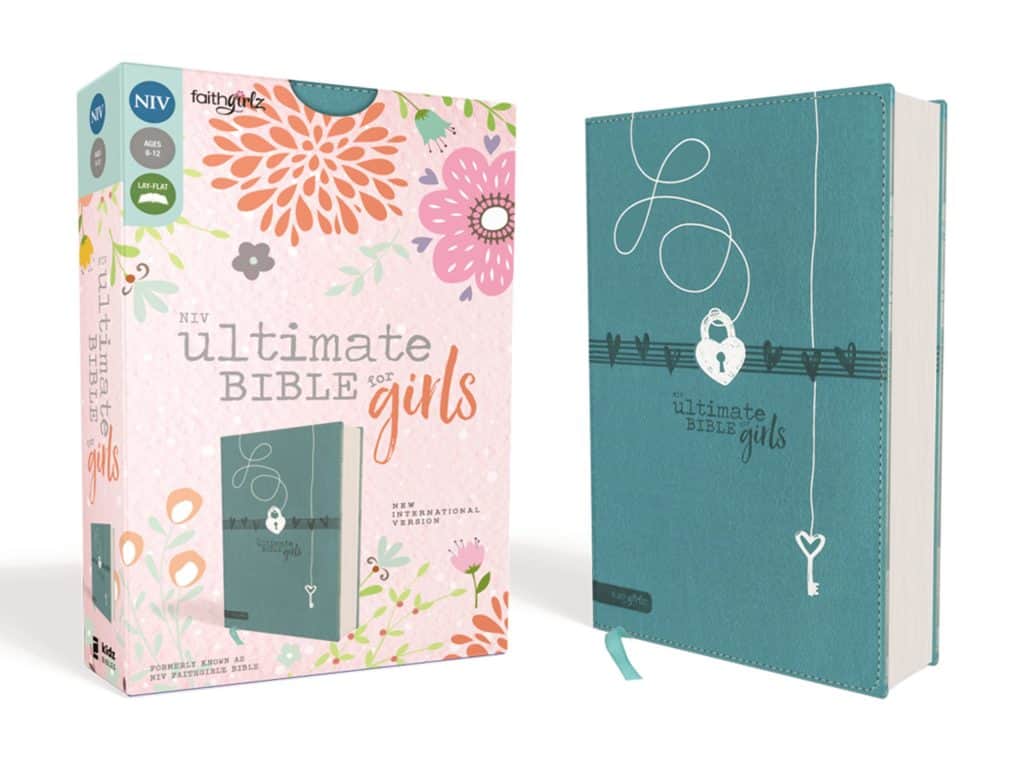 Features include:
The complete NIV translation of the Bible
Book introductions—These are segments that tell about each book in terms of who, what, when, and where.
Dream Girl—this encourages the girls to use their own imaginations to put themselves into the Bible story.
Bring It On!—helpful quizzes for a girl to help get to know themselves.
Is There a Little (Eve, Ruth, Isaiah) in You?—This helps the girls see what they may have in common with great women in the Bible
Words to Live By—These are some of the Bible's great verses they are encouraged to memorize
Oh, I Get It!—This helps the child find great answers to questions in the Bible that they may have wondered about.
Beautiful cover that girls love
The features are written by the bestselling author, Nancy Rue
KJV Kid's Study Bible – Leathersoft (8-12 yrs)
We normally recommend a more modern translation for children than the King James Version. However, for families or churches that insist on that version, it certainly can be a powerful and great tool that helps bring the word of God and life change to all who will read it.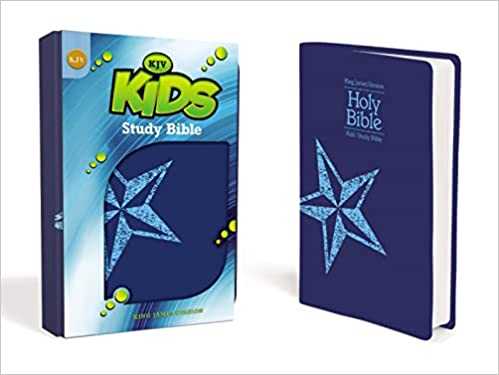 Features include:
The entire Bible text of the traditional and famous KJV Bible
"Did You Know?" sections that give very interesting facts about the scriptures
"Life in Bible Times" segments help bring the Bible alive with pictures and descriptions of events.
"Words to Remember" segments to help the child remember key Bible verses
Dictionary/concordance explains important words and will help the young reader search for and find important Bible verses
Book introductions give explanations prior to each book of the Bible
8 very colorful maps will help explain where the events happened
The King James Version Kids Study Bible takes you on a thrilling journey: knowing God. It's ideal for home, school, or church use, and it will sweep you off your feet with its fun and fascinating nature.
NKJV, Study Bible for Kids (age 8-12)
The NKJV Study Bible for Kids has over 850 study notes just for children. It helps kids understand the Bible stories and learn about a relationship with Jesus Christ. The NKJV Fully-Illustrated Edition for Children, which includes a full-color, easy-to-read version of the NKJV, can make God's word come alive in the eyes of youngsters aged 8 to 12. The New King James Version (NKJV) still leans toward the word style of the King James Version, yet makes the text a bit more modern for today's reader.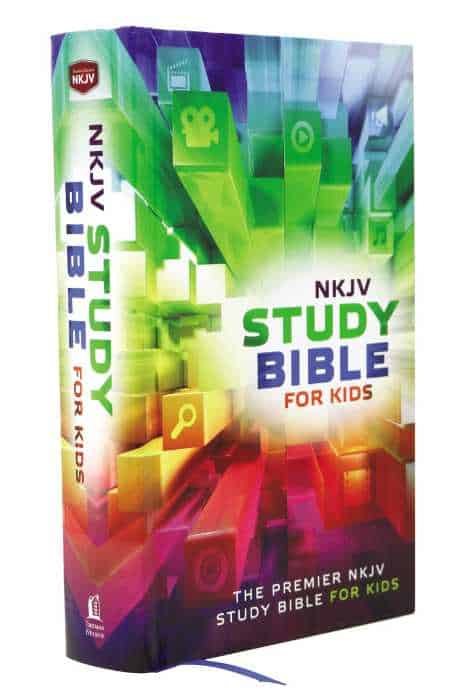 Girls Life Application Study Bible (age 9+)
This Bible combines our most recommended study Bible resource, The Life Application Study Bible, with one of our most recommended Bible translations.
This New Living Translation (NLT) Bible has over 800 notes from the Life Application comments. It also has other exciting features including the Foundations of Your Faith sections. These have the intention to help these young ladies grow in their faith in Jesus Christ. The colorful 8 sections of the Foundations are to help girls soak in more Bible knowledge, see and understand the big, and primarily to know Jesus and what it means to have a relationship with Him.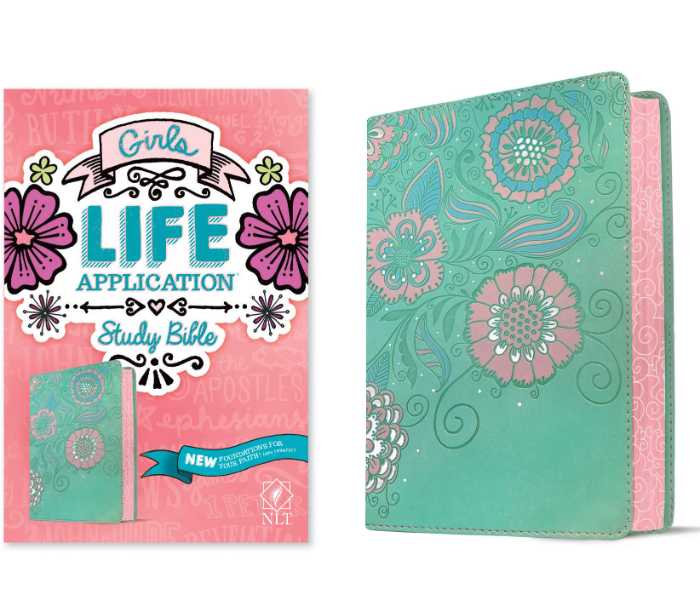 Features:
Over 800 Life Application features and compelling notes
Easy to read Bible NLT version a journaling section that is interactive
8 full-color "Foundations for Your Faith" parts
The binding is LeatherLike, and is Purple/Teal
Age range: approx 9-14 years
Published by Tyndale House
NLT Boys Life Application Study Bible (9+ years)
This Bible is the boy's version of the Life Application Study Bible that we have recommended.
This awesome Bible is one of the best Bibles for older kids when they become more interested in studying the Bible and learning God's word.
This study bible can serve as a very foundational resource for boys for many years. This Bible is filled with faith-based and real character-building examples that enable boys to more deeply understand their Christian faith. It helps them understand the who, the what, the when, and the where of scripture and how they fit into God's story.
The Life Application features are primarily the same as the ones listed in the Girls Life Application Study Bible although the look of this youth Bible has a more "boyish" look than the girl's version.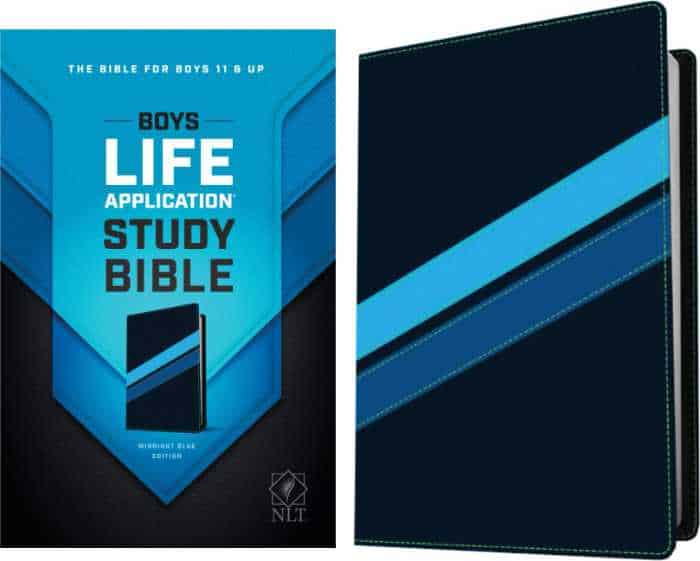 Children's Bible Story Books
Children enjoy hearing beloved Bible stories from a Bible version they can understand. However, many parents will start their children with Bible story books before they actually search for actual Bibles for kids. There are many very good Bible story books that are sometimes called children's Bibles, kids Bibles, or might be listed as the best children's Bibles, but actually are just exciting stories from the Bible. They can be great for bedtime stories or anytime stories! These types of books may not at all contain the full text of the Bible as that is nor their intended purpose.
These are for the purpose of reading Bible stories to children or letting them read the Bible stories to you. They normally contain key Bible stories and are filled with colorful illustrations that draw the child's eye into the story.
These Bible storybooks are great to have around and are wonderful to help bring to life different Bible stories in a way that kids understand.
The Biggest Story Bible Storybook (ages 6-12)
The Bible is a very big about the biggest story ever! Every page tells the story of God's creation of the world, involvement in history, and ongoing activity. Pastor Kevin DeYoung shares this big narrative with children ages 6–12 in The Biggest Story Bible Storybook, which is written in 104 short chapters.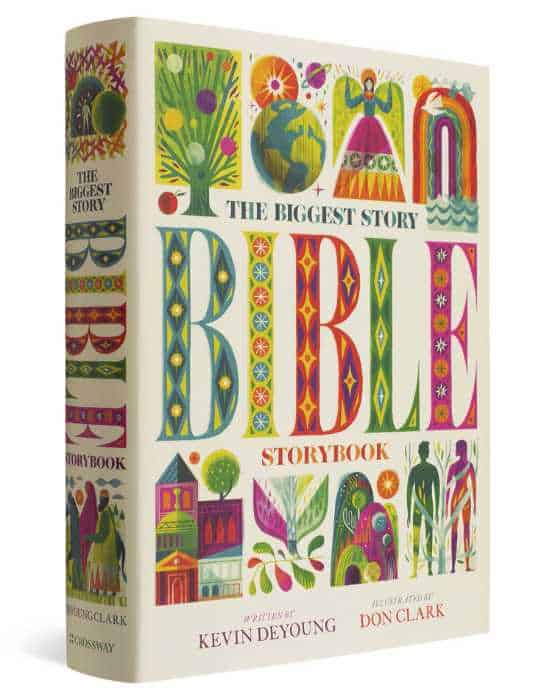 The Jesus Storybook Bible: Every Story Whispers His Name
The Jesus Storybook Bible, unlike other children's Bible storybooks, features stories from the Old and New Testaments as well as underlying themes that point toward Jesus Christ as our Savior. Jesus is at the center of God's amazing story of salvation, and these stories display that Jesus is at the heart of our own personal lives as well.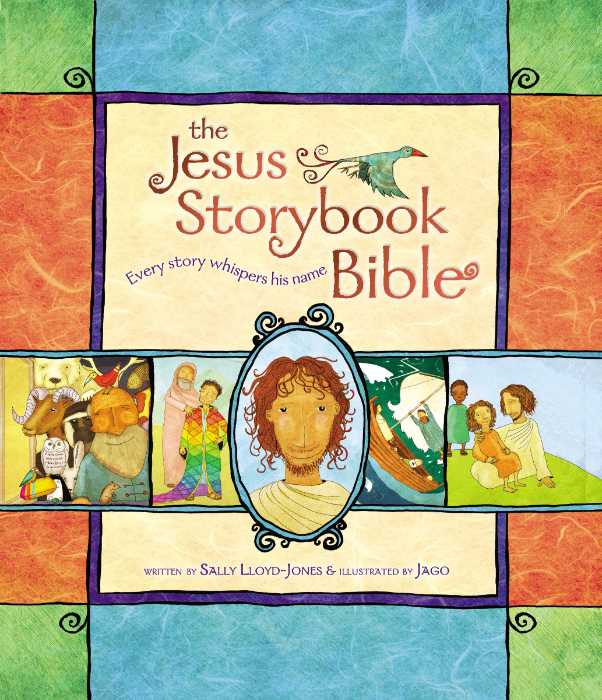 It's written by New York Times bestselling author Sally Lloyd-Jones and illustrated by Jago, an award-winning artist.
Tells 23 stories from both the Old and New Testaments.
Share how Jesus is at the center of our story through the use of visuals.
In a simple and straightforward style, this volume presents the Bible's most famous stories.
This children's Bible is great for any child up to 6th grade, as well as a church ministry.
It's a fantastic present for Christmas, Easter, and other gift-giving holidays.
The Action Bible: God's Redemptive Story
The Action Bible has over 230 fast-paced stories that are exciting, and they flow in chronological order. It's a great choice for kids who love adventure stories and who are looking to learn more about the Bible.
If a child likes the action of a comic-book-type story, with the exception of these being actually true-to-life stories, they might want to try one of the Action Bible series.
Sergio Cariello's does colorful, action-packed illustrations for The Action Bible that bring great energy in the same way as some of his work with Marvel Comics and DC Comics as well.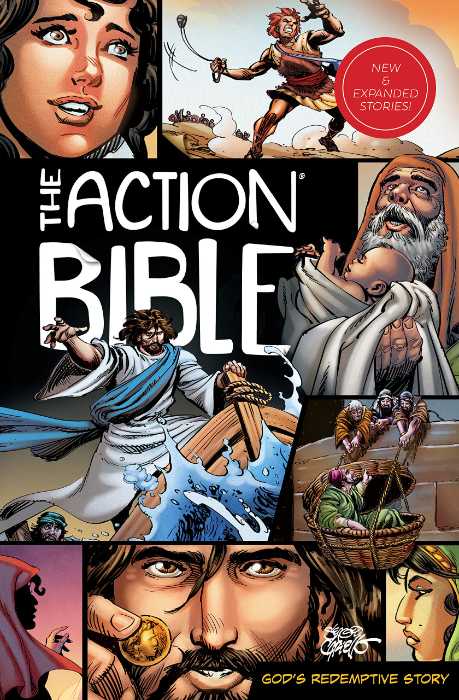 The Action Bible: Heroes and Villains (6 yrs and above)
The Bible Characters: Features a lot of things a child wants to know about some of the Bible's most interesting, but dastardly characters. It is a fully illustrated reference book that provides fascinating insights and statistics about the Bible's most intriguing yet sometimes villainous characters.
This book is a part of The Action Bible Series and remains consistent with the action-packed comic book style of illustration.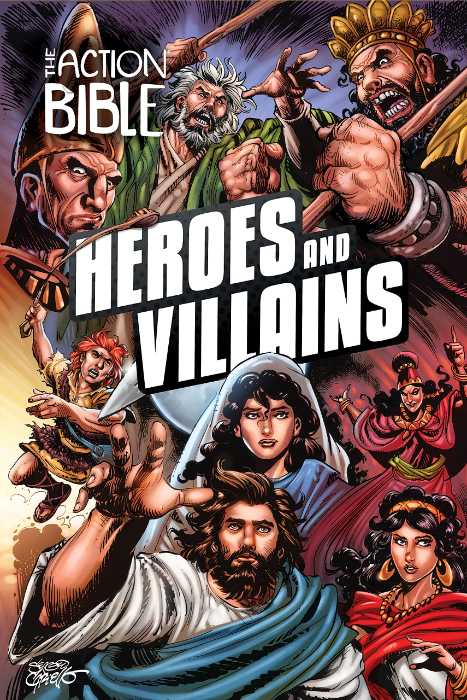 Features:
Information on the unusual beginnings, amazing jobs, and strengths and shortcomings of over 75 Bible characters in vivid colors.
Detailed historical background, as well as "Where Is It Now?" guides to ancient and modern-day sites.
Diagrams, tales, and interesting facts about cuisine, apparel, customs, individual eccentricities, and supernatural events of God.
The Complete Illustrated Children's Bible
With this colorful Bible storybook, you can help your youngster grow to love the Scripture for the rest of his or her life. This large collection of the Bible's most-loved stories is ideal for sharing together or reading alone throughout the day, with over 300 stunning two-page pictures to capture even the youngest child's imagination and heart.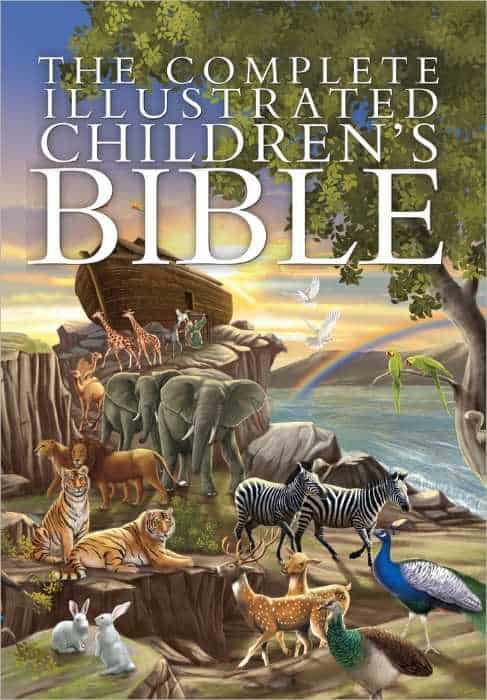 The Beginner's Bible
The Beginner's Bible will take a young child on a journey that will hopefully lead them to a love of God's Word as they grow up.
Kids will learn about Noah getting the animals on Noah's ark, leartn about Jonah as he pray to God inside of the big fish. The will follow Jesus go through His ministry as they see a man who needed healing being lowered down through a roof in someone's house.
This has been a favorit Bible story book by children and parents for almost 30 years.
It is newly designed with fresh, great looking, new art for this generation of young readers
Exhibits easy-to-read words – parent tested and approved by children too!
Features bright, full-color illustrations on every page
This book has over 90 Bible stories
This Bible story book is built tough and rugged for frequent use by children.
This Bible story book is highly-trusted, and a recommended part of the Beginner's Bible brand – a brand that has sold 25 millions products.
Millions of children and their parents are probably not wrong. The colorful and vibrant illustrations enhance every word of The Beginner's Bible® to produce moving and memorable Bible experiences for young children. a young child can have. 
Other Options
We just gave you a sampling of all the options out there and we pray that you will find just the right one!
Also, check out our pages – "Best Study Bibles for Men," and "Best Study Bibles for Women."
Here are a couple of more links to children's Bibles and also additional Bible story books and various story Bibles.
Older children who may have been reading the Bible and have good Bible might want to branch out and read the Bible in Chronological order for that can be extremely interesting and help them see the storyline of scripture.